Day 1 : Arrival in Quito. Transfer to the hotel.
Upon your arrival at Quito's airport, you will be met by our representative, assisted with your luggage and transferred to your hotel where you will stay for the night. As flight times can differ, the remainder of the day is free for you to refresh, relax and get ready for your next day's departure to the Galapagos Islands. Our representative is there to assist you with options for food and shopping as per your needs and requirements.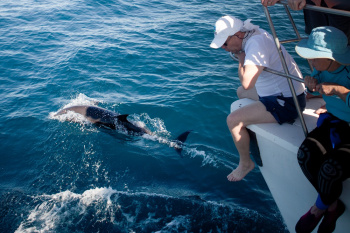 Day 2 : Fly to Seymour Airport, Baltra Island before being transferred to Puerto Ayora on Santa Cruz Island.
Following breakfast, we will depart our hotel in the morning in order for you to begin your adventure! You will take a flight to the Galapagos Islands and land at Seymour Airport, Baltra Island. This flight takes approximately 2 hours. Have your camera at the ready for the incredible views ahead. Seymour airport became the world's first "green" airport in December 2012. It is powered entirely by renewable energy and built using recycled materials, another amazing evolution from the Galapagos. Upon retrieval of your luggage, you will be transferred to your next destination - Puerto Ayora on Santa Cruz Island. After checking in, you will head out to explore this island, also known as The Indefatigable Island. This exploration will involve a stop at a private farm that conserves pristine, native, and endemic vegetation for the habitat of the giant Galapagos Tortoise. As you walk its trails you will have plenty of opportunities to marvel at the Galapagos Tortoise in its entire splendor. You will also have the pleasure of enjoying your lunch here amongst these iconic creatures. In the afternoon, to complete our Santa Cruz highland's exploration, you will visit and explore one of the biggest lava tunnels in the Archipelago. You will also have the opportunity to learn all about the volcanic origins of the island whilst exploring the inside of the lava tunnel.
Ikala Galapagos Hotel Breakfast, Dinner, Lunch
Day Highlight Giant Galapagos Tortoise Farm Experience , Lava Tunnel exploration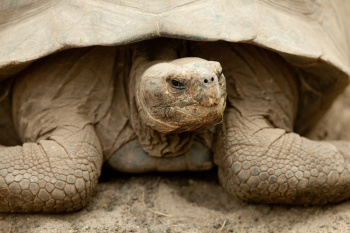 Day 3 : Observe Galapagos wildlife on an excursion to Bahia Ballena on the west coast of Santa Cruz island.
Today is another incredible day with an incredible opportunity to explore this area further. We navigate Northwest from Puerto Ayora Island to reach Bahia Ballena, an inlet of green sand on the west coast of Santa Cruz Island. You will land at the green sandy beach where you will observe Galapagos Sea Lions and unique Marine Iguanas lounging and basking in the sun. You will also spot the famous endemic Darwin Finches and Yellow Warbler subspecies as they flying among Candelabra and Prickly Pear Opuntia cacti in search of food and nesting sites. Frigate Birds perch on Mangrove trees and circle the sky to try to steal fish, while Blue Footed Boobies hunt by plunging deep into the water. Here, different species of mangroves such as Red Mangrove, Black Mangrove, and White Mangrove grow among the lava fields of the island providing the nutrients necessary into the water that attract and sustain the colourful tropical fish that you observe as you snorkel and swim. As you look out from the inlet, you will observe a series of channels where clusters of lava rocks form small reefs that break the sea's swell. The depth of the ocean at Bahia Ballena is approximately 30 feet and, in many places, there is a sandy bottom, where you can often see Pacific Green Sea Turtles resting or gracefully swimming in search of their food. You may also spot Long Tailed Stingrays of different sizes and occasionally, you may see Leatherback Sea Turtles during their migratory stage. As you leave Bahia Ballena, you will see the small island of Santa Fe in the distance. Upon your return to Puerto Ayora, you will go to the hotel to get ready for dinner which is of your own choice today. An opportunity to discover the delectable tastes of this Island and our staff will be delighted to provide any assistance which you may need.
Ikala Galapagos Hotel Breakfast, Box Lunch
Day Highlight Bahia Ballena Navigable Tour
Day 4 : Transfer to San Cristobal Island via speedboat. Kayak to Manglecito beach where we camp for the next 2 days amidst the native wildlife.
Post breakfast, you will board a speedboat for a journey of approximately two and a half hours towards Puerto Baquerizo Moreno on San Cristobal Island. As this island is one of the oldest in the chain of volcanic islands, its peaks show those signs of age, with greatly eroded peaks and vegetation which is more plentiful and abundant than other islands. Puerto Baquerizo Moreno is the second largest town of the Galapagos and also its Provincial Capital. Upon arrival here you will have some time to enjoy your lunch and soak in the atmosphere. After the food settles, we will go to organize our snorkelling and wet suit clothing before loading our luggage onto our support boat. Once that is complete you are ready to get into your kayak and paddle all the way from Puerto Baquerizo Moreno to Manglecito Beach. This will take us approximately 2.5 to 3 hours and we will cover 6 nautical miles. Imagine the sounds and sights as you paddle your way through these incredible waters. Along your journey, you will pass near to Lobos Island, where it will be quite easy to approach the local fauna as they rest on the rocks close to the coast. It is a great chance for close up pictures of blue-footed boobies, brown pelicans, and marine iguanas. Kayaking gives you a great vantage point, as it is common to spot sea turtles taking their heads out of the water to breath. If you are lucky enough, you may even find them mating on the water. It is along these waters and on these sands that we will have the truly unique opportunity to camp on Manglecito Beach, amongst the wildlife, the stars, the sounds and the smells of this most incredible corner of the earth.
Ikala Galapagos Hotel Breakfast, Dinner, Lunch
Day Highlight Boat ride to San Cristobal Island , Kayak to Manglecito Beach
Day 5 : Navigate towards Kicker Rock where you snorkel with Galapagos and White tipped reef sharks, eagle rays and sea turtles.
Imagine your views and your excitement as you open your eyes this morning! And yet your thrills continue because today your day will begin with a boat ride towards Kicker Rock which is also known as Leon Dormido. Upon arrival you can enjoy another snorkelling opportunity where you may see Galapagos and white-tipped reef sharks, eagle rays and sea turtles, amongst the array of other colourful sea fish and sea stars. After a picnic lunch and a little relaxation time you will return to Manglecito to further bask in all that surrounds you and hopefully another very exclusive sunset and clear and starry night if the skies allow.
Blue Marlin Hotel Breakfast, Box Lunch, Dinner
Day Highlight Snorkel at Kicker Rock
Day 6 : Kayak back to Puerto Baquerizo. Following lunch, hike to Cerro Tijeretas and Darwin's Bay.
Today morning after your 'breakfast with a view' you will begin your return journey by kayak back from Manglecito Beach all the way to Puerto Baquerizo Moreno. You will paddle close to the coast to enable us to approach, a little bit closer the local fauna on these rocks as the laze in the sun. This can again be another great opportunity for you to take those close-up shots of the local and incredible fauna of this fascinating place. Our program for the afternoon, following lunch is a visit to Cerro Tijeretas which is an Environmental Centre on this Island. It is here that you will have the opportunity to learn how volcanic activity lead to the formation of the spectacular rocks that comprise the famous Galapagos Islands, as well as learning about some of the history that took place here between the early settlers. You will then hike to the spot where Charles Darwin's HMS Beagle landed on the islands for the first time in 1835. During the walk, your guide will talk about Darwin's theories and findings from his five-week exploration of the archipelago. It is a great introduction to the history of the Galapagos and will give you a really thought-provoking perspective as you continue your hike. From the top of Cerro de las Tijeretas (Frigate Bird Hill), you will have gorgeous, expansive views of the coastline as well hopefully watching the famous frigate birds - "the pirates of the seas" - as they steal food from unassuming boobies. If you wish, upon your descent there is the opportunity to have another short snorkel in Darwin's Bay - a great place to experience swimming with sea turtles and sea lions. The trail will then take you to the breathtaking Carola Beach with just enough time to watch the sun set on another incredible day of adventures on the Galapagos Islands.
Blue Marlin Hotel Breakfast, Lunch
Day Highlight Kayak to Puerto Baquerizo Moreno , Hike Cerro de las Tijeretas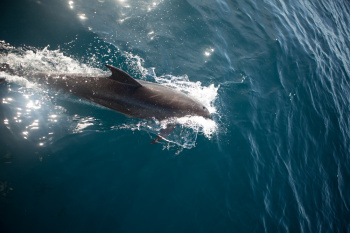 Day 7 : Bid adieu to this enchanted Archipelago after an incredible few days or unique and memorable experiences.
Today is the day that you will say goodbye to this enchanted Archipelago after an incredible few days or unique and memorable experiences. After breakfast you will be driven to the airport to catch your flight back to Quito.