Day 1 : Arrival transfer to a hotel of your choice. Information briefing for upcoming expedition at 1900 hours.
Today is our arrival day in Longyearbyen, Spitsbergen. Longyear Town, as it is also known, is the largest town on the Svalbard Archipelago of Northern Norway and also the world's northernmost town. It developed due to coal mining and is now also famous for its spectacular views of the Northern Lights and as a gateway to the adventures of the Arctic as you will see for yourself on this unique trip. You will also quite possibly see a reindeer wandering through the streets and count more snowmobiles than people!
Upon arrival at the airport you will transfer to a hotel of your choice. Once you are checked into your hotel you will have some free time to freshen up, rest or to begin your exploration of this distant town.
We will all gather at 19:00hrs for our Information briefing. This is where our staff will brief you on the current situation at the Ice Camp "Barneo", inform you about the polar flights departure time, and answer any questions you might have. This will be held in the Conference room at the Radisson Blu Polar Hotel. After the briefing you are free to enjoy your dinner in a local restaurant of your choice. Our Staff will be very happy to assist you with your choice.
None

Day Highlight Information Briefing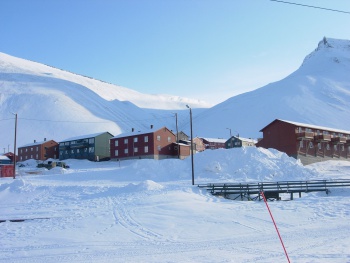 Day 2 : Flight to Ice Camp Barneo followed by heli-flight to the Geographic North Pole if weather permits.
This morning after breakfast, we will transfer to the airport for our flight to the Ice Camp "Barneo". Our flight from Longyearbyen to Barneo will be on an aircraft AN-74 with an approximate flight time of 2 hours 30 minutes. You can just imagine what your eyes will bear witness to on this incredible flight. Sights glimpsed by the lucky few of some of the earth's most spectacular terrain. We will arrive at Barneo, which is located at 89 degrees north latitude. Your accommodation for this exceptional night will be in the heated tents of Barneo Ice Camp on the drifting Arctic Ice, where each tent accommodates 10-12 people.
Given our first opportunity you will be flown via an MI-8 helicopter to the Geographic North Pole. The approximate flight time is 40 minutes. What an incredible place to press your feet - the Geographical North Pole! We can spend up to an hour In the environs of the North Pole, taking it all in, breathing it all in and filling our lungs with that incredibly fresh, vital arctic air. This is of course along with taking all the necessary snaps and selfies! With perhaps reluctance we will return to the ice camp by our helicopter MI-8 to enjoy the incredible opportunity of sleeping on the drifting Arctic Ice. You will also receive a certificate of reaching the North Pole once back at Barneo Ice Camp.
Overnight in the heated tents of Ice Camp Barneo
Barneo Ice Camp Dinner, Lunch
Day Highlight Flight to Ice Camp Barneo , Heli-flight to Geographic North Pole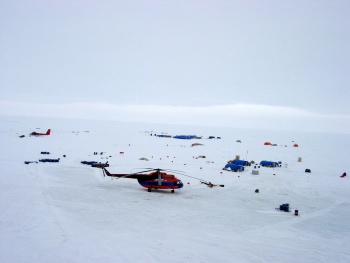 Day 3 : Spend the day exploring Barneo Camp before flying back to Longyearbyen.
Imagine how you will feel waking up this morning knowing you get to spend the day exploring this unforgettable area. You can see the work of the scientific expeditions that are happening at the Barneo ice camp, observe the process of diving under ice in these incredibly cold water conditions or generally experience how daily life is at this drifting station.
Later in the day, we will take our flight to Longyearbyen on the AN-74 again, an approximate flight time of 2 hours 30 minutes. On arrival in Longyearbyen you will be transferred to your hotel.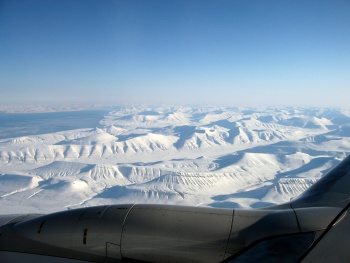 Day 4 : Buffer day in Longyearbyen. Explore the town at leisure.
It is very important to keep buffer days within our schedule because, as you may come to see, no one is in control of the elements up here at the northernmost reaches of Earth. Only Nature herself calls the shots. In light of this and to maximize our opportunity we have kept two days buffer for you. These "buffer" days are also an amazing opportunity to explore this incredible area and all it has to offer. Our staff are always on hand to help you with suggestions.
Some of the options for you to consider are: The local Svalbard Museum complete with a history of the area, a chronicle of climate change and a full life sized (stuffed!) Polar Bear; The Svalbard Brewery to celebrate your unique adventure drinking beer that has been brewed from glacial water; Or a trip to explore the disused coal mine and understand the work that would have been involved during that time to excavate the coal with little to no machinery.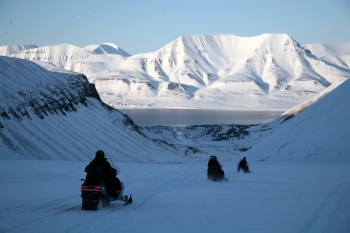 Day 5 : Transfer to Longyearbyen airport for your return flight.
Another spare day has been added in here again in case of delays. With your further free time you could also think about hiring a guide and trekking up to Platafjellet which will give you a birds eye view of Longyearbyen and its surroundings. A guide is necessary on this trek as you will be leaving the town and potentially heading into Polar Bear territory. (Prior booking required).
Depending on your flight schedule, you will be transferred to the airport for your flight home.