Day 1 : Fly to Greenland via Reykjavik or Copenhagen. Navigate iceberg covered fjords to reach Qassiarsuk.
Today, having flown either via Copenhagen or Reykjavik, you will be picked up at Narsarsuaq Airport by your Guide and taken by Rigid Inflatable Boat (RIB) through Tunulliarfik Fjord which is usually covered by icebergs, to Qassiarsuk, your home for tonight. Once we have checked in you will go for a guided tour of this small settlement of no more than 50 people. See how people have lived and farmed over the years, and visit the ruins and replica of Erik the Red's time in Greenland. Erik the Red is reputed to be the first person to 'discover' Greenland for the colonizing countries.
Leif Eriksson Hostel Dinner
Day Highlight Guided tour of Qassiarsuk , Flight to Narsarsuaq, Greenland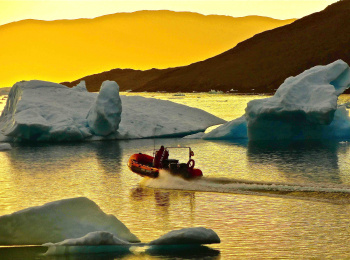 Day 2 : Explore the quaint town of Narsaq before cruising further to Qaleraliq Glacier Camp, your home for the next 3 nights.
Today after breakfast you will hop back into our RIB and cruise further through Tunulliarfik Fjord towards your Glacier Camp. Along the way we will stop off at Narsaq. Narsaq, with 1500 inhabitants, is the third most populated city in South Greenland. Stroll the streets, browse in the shops, maybe even take a look in the fur shops, and take in what life may be like for those who live here year round. Imagine the scenery in the depths of winter and how different it may look to now. After this visit you will board your boat again and navigate further towards your glacier camp which you will find set up comfortably on a sandy beach. The sandy beach is in stark contrast to rising glaciers surrounding you. The Qaleraliq Glacier was once one full glacier however because of global warming it has now broken into 3 parts. Sitting in your camp you can enjoy the views and the sounds of the thunderclap icefall from the seracs.
Qaleraliq Adventure Glacier Camp Breakfast, Dinner, Lunch
Day Highlight Zodiac transfer to Qaleraliq Glacier Camp
Day 3 : Hike up to Tasersuatsiaq Great Lake before ascending further to witness the humongous Ice Cap.
Today we are on foot. After your breakfast you will depart on foot as you walk along a sandy valley and ascend up to the base of one of the largest lakes in Southern Greenland - Tasersuatsiaq Lake. The landscape changes from glacial and sandy to green and tundra. Maybe catch glimpses of caribou or pick some fresh cranberries and mushrooms as you hike. After reaching the lake you will climb a further 400 metre up a mountain and enjoy the most spectacular view of the lake below and the Inlandis - the large inland ice sheet that lies to the north and all the way towards the Arctic Ocean. An incredible feast for the senses from the top of this vantage point. A definite experience of the vastness and expansiveness of this island, the largest and the most remote one in the world.
Qaleraliq Adventure Glacier Camp Breakfast, Dinner, Lunch
Day Highlight Hike to Tasersuatsiaq Great Lake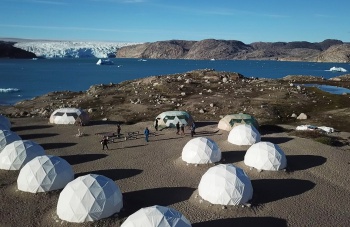 Day 4 : Explore the Qaleraliq glacier front by RIB boat before embarking on a stunning glacier walk. Marvel at the Northern Lights once you are back in camp.
After your breakfast this morning you will head out on today's adventure. This adventure is one that will take you back into your RIB and along the water exploring, watching and listening to all the signs and sounds of this glacial front which travels for 10km all the way to the sea. This is said to be the oldest masses of ice on the planet and it is on this old mass of ice that you will begin your trek on ice. After receiving careful instructions and fittings from your expert guide you will be fitted with crampons on your feet to enable you to walk safely on the ice. Once you are all set up you will begin trekking along this ice mass, exploring the crevasses, the cracks, the seracs and the masses of ice. Your guide will be teaching and explaining at each point what there is to know about these incredible formations. It is not just a feast for the eyes but a feast for the ears too. After you trek has completed we will return to your camp where you can once again marvel at the sky and replay your memories from the day.
Qaleraliq Adventure Glacier Camp Breakfast, Dinner, Lunch
Day Highlight Qaleraliq Glacier Walk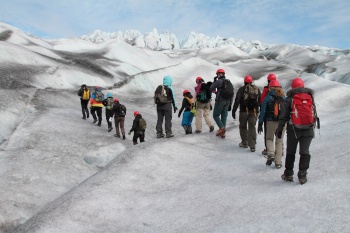 Day 5 : Hike the Path of the Kings to Igaliku before exploring Qooroq Fjord by RIB boat.
Post breakfast, you will climb back into your boat and navigate the Tunulliarfik Fjord towards Itilleq. Once you reach the landing it will be an easy hike across Kongevejen, or the Path of the Kings to reach your destination of Igaliku. Igaliku is a small Inuit settlement of less than 40 people and it is said to be the most beautiful settlement in all of Greenland. This area was recently declared as part of UNESCO's World Heritage List because of its beauty and history. It is here where one finds Gardar - the ruins of the seat of the archdiocese and religious capital of Norse Greenland and the Norse Bishops farm, the largest in all of Greenland. After lunch you will return back to Itilleq and then to Qassiarsuk but en route you will stop at Qooroq Fjord, which is where you will find the most active glaciers in all of Greenland. You will navigate in the waters until the icebergs are so dense as to make it impossible and then you will journey onwards to Qassiarsuk
Leif Eriksson Hostel Breakfast, Dinner, Lunch
Day Highlight Hike the Path of the Kings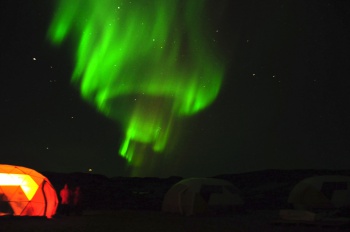 Day 6 : Explore farmlands and Viking ruins in Tasiusaq before embarking on a kayak excursion to the 'Iceberg Bay'
Today after breakfast, from Qassiarsuk, you can walk to Tasiusaq Farm which is where 7 people actually live in practical isolation nearby Sermilik fjord, due to the density and activity of the icebergs coming from Eqaloruutsit glacier. Learn about how they survive and farm in such conditions. This is actually not the only farm in this isolated area. There is another farm, Nunataaq Farm, which you will also be able to visit. Previous to being a farm this area was actually a Viking settlement and here you will be able to find some Viking ruins. You will enjoy a full excursion and exploration of this area before embarking on a sea kayaking excursion among towering icebergs.
Breakfast, Dinner, Lunch

Day Highlight Kayaking excursion to the 'Iceberg Bay'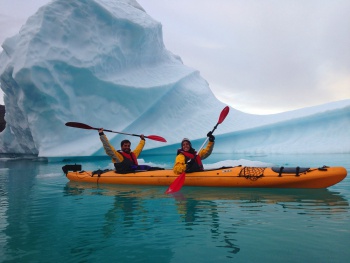 Day 7 : Hike through the Flower Valley up to the Kiattut Glacier. Enjoy a farewell Inuit dinner.
Today we will continue exploring on our RIB to Narsarsuaq and then continue on foot walking through the Valley of Flowers. This Valley was formed due to the retreat of the glacial and the sedimentation it left. Now we are left with a beautiful valley in a blanket of flowers. You will continue your walk until you reach Kiattut glacier and you can enjoy the panorama of the ice sheet and with all of its nunatuks which are isolated peaks of rocks sticking up above the surface of inland ice sheets or snow. After this walk you will return to Qassiarsuk to enjoy your final farewell dinner of local Inuit fare.
Leif Eriksson Hostel Breakfast, Dinner, Lunch
Day Highlight Hike the Flower Valley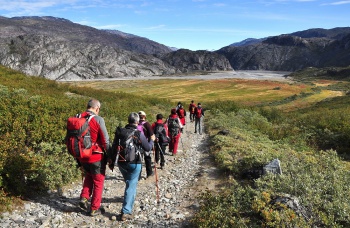 Day 8 : Transfer to Narsarsuaq. Explore the settlement before your return journey to Reykjavik/Copenhagen.
Today morning, you will be transferred to Narsarsuaq and spend some time exploring this settlement before your return journey to Reykjavik/Copenhagen. Stroll the streets or visit the museum to learn what part this settlement played in World War 2. There is always something new and interesting to discover on this remote island! It never stops surprising!
Breakfast

Day Highlight Flight to Reykjavik/Copenhagen