Day 1 : Arrive in Ushuaia, nicknamed the 'End of the World'. Transfer to pre-expedition hotel. Pre-departure briefing at 6PM.
Your tour begins today in the bustling town of Ushuaia, right at the tip of Argentina. Nicknamed "the End of the World" this resort town is both windy and wild. It is perched atop a hill and you really will get that feeling that you are embarking on a trip to the "end of the world". Probably because you are!!! Depending on when you arrive you can enjoy the buzz and excitement around town whilst preparing for your adventure that begins tomorrow!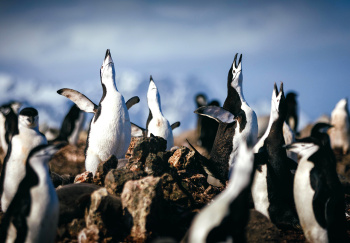 Day 2 : Board your ship and prepare to set sail into the open sea through the famous Beagle Channel.
Enjoy a leisurely breakfast as embarkation usually happens in the afternoon. Once you have boarded your ship, been assigned and settled into your cabin you can enjoy your departure from land out into the open sea. Your ship will sail through the famous Beagle Channel and out into the wide open sea beginning its voyage to South Georgia Island.
Hotel Los Acebos Breakfast, Dinner, Lunch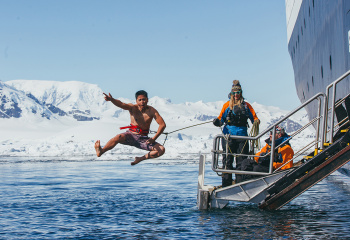 Day 3 : We set sail towards South Georgia on an epic voyage which will take around 3 days. Enjoy onboard presentations and talks conducted by experts.
The next 3 days you will be sailing to South Georgia Island. You can enjoy the flocks of seabirds that glide alongside your ship. You can get to know their names and their habits as they keep you company. You can enjoy the talks and expert information that is provided by the crew on all things Antarctica and South Georgia - from glaciology, to history, to exploration, to wildlife. There is not only so much to see but also so much to learn. AS the next 3 days are also filled with open sea your itinerary below will give you a taste of some of the spots that might be visited on the trip. Please bear in mind that these areas are just a sample and the crew along with the weather will make the deciding call on those days.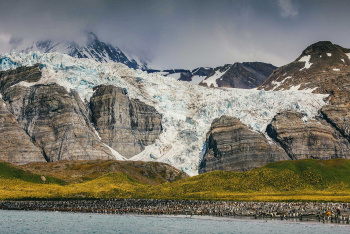 Day 4 : Continue sailing towards South Georgia. Enjoy the ship facilities, learn to identify seabirds that glide alongside the ship and attend onboard lectures.
There are many activities to keep you engaged while you are at sea. Build on your knowledge of sea birds, attend presentations and lectures delivered by the expedition team or just relax and enjoy the myriad facilities on your ship.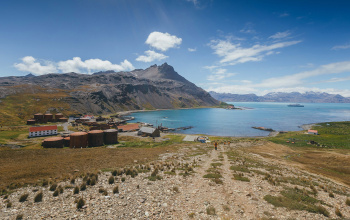 Day 5 : Continue your voyage to South Georgia. Attend briefings on safety procedures for Zodiac cruises and shore landings.
Your voyage continues as you move ever closer to the historic South Georgia Islands. The expedition team will prepare you for shore landings and the various safety procedures involved. You also have the opportunity to learn about the dark whaling history of the South Georgia Islands.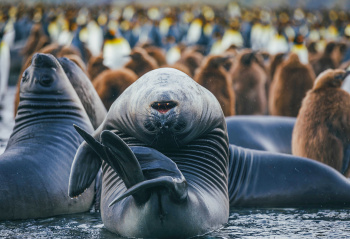 Day 6 : Final day on open seas before we reach South Georgia. Look out for a group of rocky spires called the Shag Rocks.
The anticipation builds as we finally approach South Georgia. A group of rocky spires called the Shag Rocks is the first indication of imminent landfall. These rocky outcrops are also ideal nesting grounds for a plethora of sea birds and are also known for numerous whale sightings.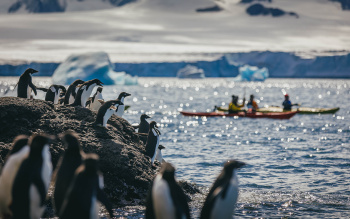 Day 7 : Prepare for your first landing on South Georgia as you head to The Pot Bay or Grytviken, the largest whaling station in South Georgia.
Possible excursions in South Georgia as you prepare to make landfall-
Grytviken, which is a Swedish word that means The Pot Bay is in reference to this area's history as a whaling station. Two of the very few people who stay on this island temporarily are the curators of the South Georgia Museum which has been created in what was the former villa of the whaling station manager where the history of this island is laid out for you. This is Church also on this island and it is the one building that is still actually being use for its original purpose. It also is the burial place of one of the worlds and Antarctica's famous explorers who died of a heart attack on this island - Mr Ernest Shackleton. The ashes of his "right hand man" - Frank Wild are also entered here.
St. Andrews Bay is a bay or bight which is 2 miles wide along the north coast of South Georgia. This Bay is well known because of the over 150,000 breeding pairs of king penguins that nest at St. Andrew's Bay. This is the largest and fastest growing king penguin rookery in South Georgia. King Penguins are the second largest species of Penguin. Second only to the aptly named Emperor Penguin. The King Penguin has an extremely long breeding cycle of between 14 and 16 months hence King Penguins Colonies are occupied year round with both adult birds and chicks. Certainly a sight to behold and definitely worth the sea trek to get here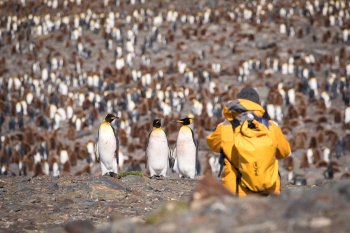 Day 8 : Continue your exploration of South Georgia as you visit Gold Harbour and Salisbury Plain, home to the largest King Penguin rookery on these islands.
Gold Harbour is located along the eastern end of South Georgia. The incredible backdrop to this harbor is the hanging Bertrab Glacier. Thousands of king and gentoo penguins call Gold Harbour home, as do rowdy elephant and fur seals. Definitely a spectacle to behold on your exploration of this island.
Salisbury Plain is where one of the largest King Penguin Rookies can be found on South Georgia Island. When you consider that this colony of Penguins can be watched and photographed flanked by both the Murphy and the Lucas Glaciers, you can imagine what a sight it will be to behold.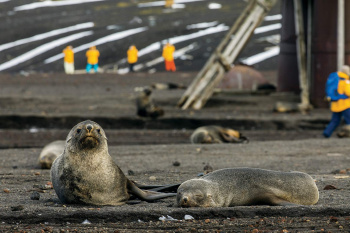 Day 9 : Leave behind the swathes of Kind Penguins and set sail towards The White Continent.
Today you leave behind the waddles of the King Penguins and the marvel of the mountains and the glaciers to set sail once again out into the deep sea. This time you are journeying towards the one and only 7th Continent. Holding all the memories and experiences of the last 2 days in your head, you will be sailing with such anticipation for what is to come. Once again you can prepare yourself for this next adventure by soaking up all the information that is given to you at the talks by the expert and experienced crew on board whilst you sail onward to Antarctica. Below again you will find details of various spots and stops that are there for you to explore depending on the weather and the wildlife and what they decide for your particular voyage.
World Explorer Breakfast, Dinner, Lunch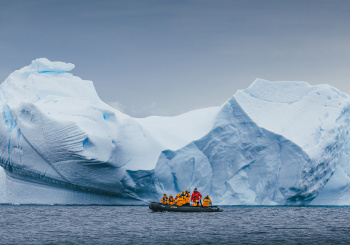 Day 10 : Continue your voyage as we approach the South Shetland Islands. Keep an eye out for migrating whales and sea birds.
Your days at sea are filled with presentations and workshops led by your expedition team who will prepare you for the grand spectacle that lies ahead of you. Look out for floating icebergs and migrating whales as you edge ever closer to the 7th continent.
World Explorer Breakfast, Dinner, Lunch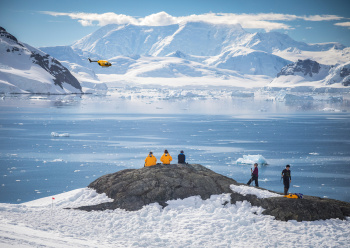 Day 11 : Prepare for your first landing on the Antarctic Peninsula. Spend the next 3 days cruising around shallow Antarctic waters aboard a zodiac, or on foot discovering hidden coves and penguin colonies.
Today is the day that you will set foot on the 7th Continent, the most remote corner of the world and one of the wildest places you can visit on earth. You will have been fully prepped for all activities not just in terms of safety and 'how-to's' but also in terms of knowledge and facts. The talks the expert crew have been delivering since you began your voyage 10 days ago are all for going to come to life now. The next 3 days you will spend either on board a zodiac or on foot discovering, watching, seeing and experiencing all that you've read and learned about, from Gentoo Penguins, the fastest birds in water, to fur seals, to Petrels and Shua's. Over the next 3 days you may have the option (cost is extra) of experiencing the Antarctic seas from a kayak or a stand up paddle board but if that is not for you but you would still love a taste of the waters there is always the infamous Antarctic Ice Water Plunge which is guaranteed to energise you!
World Explorer Breakfast, Dinner, Lunch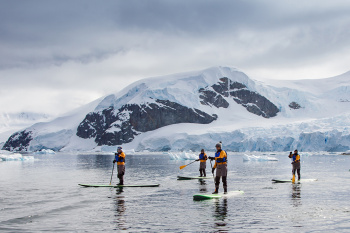 Day 12 : Explore Wilhelmina Bay and Paulet Island in the northwestern Weddel Sea.
We continue our exploration of this majestic landscape with visits to sites that are known to harbour pengion and migrating whale colonies. Please note that the actual program and landing sites might vary depending on the prevaling sea conditiions,
Wilhelmina Bay- You will be able to guess why this Bay is a firm favourite when you hear that it is often nicknamed "Whale-mina Bay" instead of it's actual name - Wilhelmina Bay. This 24 km Bay often abounds with humpback whales and as you can imagine the sight of them and the scenery is spectacular. Sheer cliffs and glaciers surround the calm waters of the protected bay, named after Wilhelmina, queen of the Netherlands from 1890 to 1948. These whales which are between 12 and 16 metres long, feed through a process known as bubble-net feeding: they exhale while swimming in a wide circle below the surface, trapping krill in a "net" of bubbles, and then swim straight up from below, mouths open, to engulf their prey. A truly astounding sight!
Paulet Island- It is on Paulet Island which is located in the northwestern Weddell Sea, that you will find the home of a large Adélie penguin rookery. Adelie Penguins are only found on the Antarctic Continent so you are definitely in for a treat here. Their behaviours have been noted by previous explorers - one such note was how they will all approach the ice edge and then one of them will get pushed in, and it is only when the "chosen one" resurfaces that the rest of the colony will jump in the water! On Paulet island you will also find a volcanic cone that rises 1,158 feet (353 meters) up. This volcanic serves as a reminder that this was once a very active volcanic landscape. In addition to penguins, you may be interested in visiting a historic hut built by members of the Swedish Antarctic Expedition of 1901-04. Here you will find a cross which marks the grave site of Ole Wennersgaard, a member of the crew.
World Explorer Breakfast, Dinner, Lunch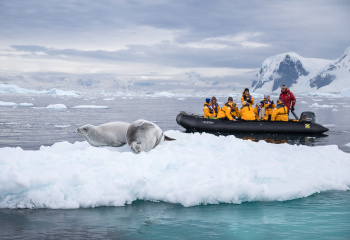 Day 13 : Continue your exploration of the Antarctic Peninsula with an excursion to Paradise Bay which offer breathtaking views as the name suggests.
We continue our exploration of this majestic landscape with visits to sites that are known to harbour polar wildlife apart from visiting few research stations.
Paradise Bay, which is a wide bay and natural harbor on the West Antarctic Peninsula, as its name suggests offers spectacular views. Mountains, glaciers and ice cliffs are what you can feast your eyes on. Icebergs regularly calve from the glaciers. The sound of an iceberg calving is such a natural, wild sound. These new ice ledges provide a place for seals, penguins and seabirds to rest and play. An Argentine research base, Brown Base—named after Admiral Guillermo Brown, father of the Argentine Navy—is also located in Paradise Bay, and was operated from 1951 until it burned down in 1984. It has since been partially rebuilt and is used as a summer research base.
These are just samples of possible areas that your voyage in the 7th Continent will take you. Weather and wildlife dictate the map on these precious adventures. Whatever route your map takes it will most certainly be an unforgettable one.
World Explorer Breakfast, Dinner, Lunch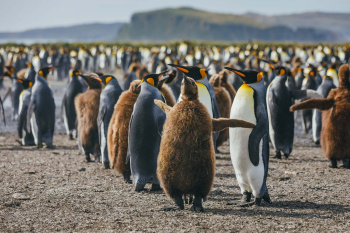 Day 14 : Bid adiue to Antarctica as we start sailing back to civilization.
Today you will begin your return journey from Antarctica and back to lands populated by more humans than birds! This journey will take you through the rite of passage that is the infamous Drake Passage. All this while on your return journey you will be filled with memories and photos and conversations about what an amazing adventure you have been on, wondering sometimes if you really did manage to see such incredible landscapes and scenery.
World Explorer Breakfast, Dinner, Lunch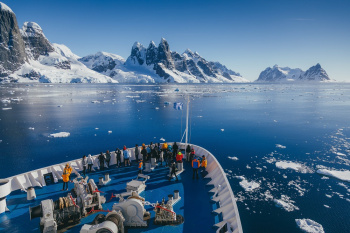 Day 15 : Sail back towards mainland South America via the infamous Drake Passage.
Cross the choppy waters of the infamous Drake Passage as you head back with a bag full of memories from Antarctica.
World Explorer Breakfast, Dinner, Lunch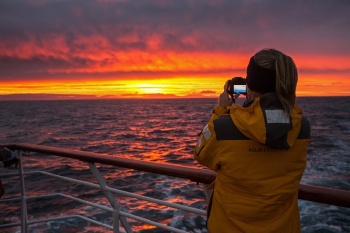 Day 16 : Disembark your expedition vessel upon reach Ushuaia port today morning.
The epic voyage ends upon your arrival in Ushuaia. Once the disembarkation process is complete, we will arrange a trasnfer to the airport for your onward flight journey. Post-voyage extensions to specacular destinations in South America are also available on request.