Day 1 : Welcome to Punta Arenas. Check-in to your hotel. Sort out your luggage for the Antarctica voyage. Introductory briefing followed by dinner.
Today's itinerary is mostly centered around logistics - making sure you are fully prepared and equipped both mentally and physically for your voyage! Anytime from 12pm you can go to the Expedition meeting room, carrying with you the luggage you are planning to take on the trip. This luggage has to be strictly weighed and must be under 15kg. Once your luggage has been checked you will be fitted out with your necessary boots and parka jacket that remain yours throughout the trip. The introductory briefing begins at 6pm for everyone in the Expedition meeting room and afterwards you will have the opportunity to have any more questions answered at your Welcome Dinner.
Hotel Cabo de Hornos Dinner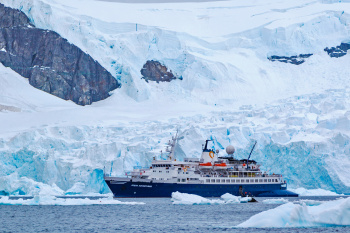 Day 2 : Fly across the Drake Passage to King George Island aboard a chartered flight. Welcome to Antarctica! Embark on your expedition vessel, your home for the next few nights.
Today you will fly across, on a specially chartered flight, the infamous Drake Passage. Even by air this will take 2/3 hours to cross and during this time your ship will be approaching and to dock at King George Island awaiting your arrival. Your flight will land on the South Shetland Islands. Imagine the perspective of seeing Antarctica for the first time from the air! The towering Icebergs, the roaring sea, the glistening ice. Once you land you can stretch your legs and feel your feet on the world's 7th and most remote continent as you walk the approximately 1 mile from landing strip to shore where you will board your Zodiac boat which will take you all the way to your Ship and home for the next few nights. You will be assigned your cabin, have a chance to settle in and catch your breath amidst this incredibly breathtaking scenery before settling down to your first evening meal on your cruise through Antarctica.
World Explorer Breakfast, Dinner, Lunch
Day Highlight Flight to King George Island, Antarctica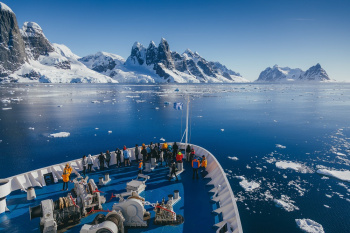 Day 3 : Explore the many coves, islands and inlets of the Antarctic Peninsula over the next 4 days. Marvel at icebergs, explore penguin colonies, observe and track mighty whales or visit a research station. The White Continent has many wonders in store for you!
For the next four days you will be waking each morning wondering what wonders you will enjoy today. On hand there will always be staff and experts from the boat ready to explain all about the magnificence you are seeing, from the glaciology, to the topography, history and wildlife. There are options each day for you to enjoy from Zodiac cruises exploring icebergs and searching for whales, to a hike to a Penguin rookery, the infamous dunk in the glacial waters to the unforgettable sound of glaciers calving into the sea. Depending on weather, your choices and numbers, each day will be different with each evening remaining the same - coming together to recount and marvel at all you experienced that day and awaiting the surprises for tomorrow. On this itinerary, the next few days will list the places and choices that can be available to you to visit in Antarctica so you can start to build up a picture of what it may be like in your own head and then compare it to the reality that is said to be both indescribable and incomparable. So many variables come into play, most notably the time of year and the actual weather in that moment so please remember the islands described below are more of a sample of the places you may visit. Whatever islands and spots you do end up visiting you can be certain you will be amazed every step of the way.
World Explorer Breakfast, Dinner, Lunch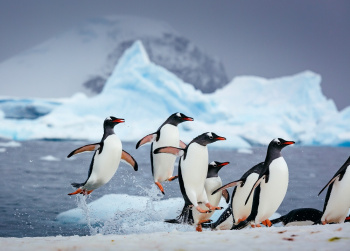 Day 4 : Continue your exploration of the Antarctic Peninsula. Possible visiting sites- Cuverville Island and Damoy Point
It is here on Cuverville Island that a Gentoo penguin rookery is situated. It is found on a rocky beach which is towards the north end of the Island. Gentoo Penguins are most closely related to Adelie Penguins and what is significant about them, amongst other things, is that they can dive down to 600 feet and they can swim up 22 miles per hour. That is the fastest speed of any diving bird. Depending on what part of the season you arrive in Antarctica you may find the Gentoo Penguins either building nests or attending to their chicks. It is estimated that there are up to 7,000 breeding pairs on this Island. Gentoos are not the only birds either on this island, you may also spot Southern Giant Petrels and Antarctic Shags.
Damoy Point is a headland about 900ms long and it is the site of an historical ice runway which was used by the British Antarctic Survey for their flights further south from 1975 up until 1993. The well-maintained hut, which contains well preserved scientific equipment and other artifacts, was used as a staging-post to store supplies and for accommodation while explorers were awaiting ideal flying conditions. The point is also home to a penguin rookery and allows for spectacular views of the mountains of Anvers Island.
World Explorer Breakfast, Dinner, Lunch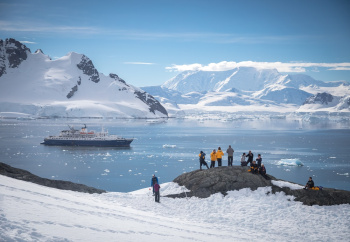 Day 5 : Continue your exploration of the Antarctic Peninsula. Possible visiting sites- Melchior Islands and Port Lockroy
At Melchior Islands are a group of low lying glaciated islands situated in Dallman Bay. It is here that you may have the opportunity to see hauled out male fur seals as they recover and rest after their battles fought during breeding season. Male Fur seals can stay in their one spot, their territory for the entire breeding season of 2 to 3 months fighting, defending and mating until all their energy reserves have been used up.
Port Lockroy is a bay that forms a natural harbor. It is here, on Port Lockroy, that as part of Operation Tabarin during the Second World War, the British built a secret base in this sheltered harbor which is located on the west side of Wiencke Island. Now a designated historic site, the base is a museum and post office - the most southerly operated post office in the world! Proceeds from your purchases in Port Lockroy support the UK Antarctic Heritage Trust, which preserves British and other historical sites dating to the Heroic Age of Exploration. A large gentoo penguin population also resides here
World Explorer Breakfast, Dinner, Lunch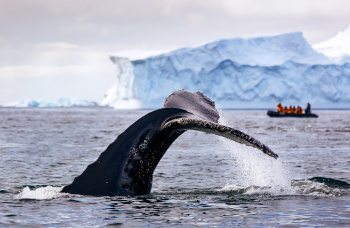 Day 6 : Continue your exploration of the Antarctic Peninsula. Possible visiting sites- Half Moon Island, Pendulum Cove and Penguin Island
This aptly named Half Moon Island is believed to have gotten its shape due to an eroded caldera which was formed during volcanic activity millions of years ago. This crescent-shaped island was known to sealers as early as 1821. It was so lucrative in those times that those who knew about it tried to keep it a secret from others but since sealing has been banned on Antarctica since the 1950's your crew are very happy to bring you ashore to explore this impressive island. Many Antarctic birds breed here, including chinstrap penguins, shags, Wilson's storm petrels, kelp gulls, snowy sheathbills, Antarctic terns and skuas. Let's hope for plenty of sightings of them and some of the infamous seals.
What is impressive and special about Pendulum cove are the geothermal waters found along the shoreline of this Deception Island cove. The Cove was named because of the observations that were made on Earth's gravity using pendulums in 1829 by a British expedition. You may see steam rising from the shore and "cooked" krill floating on the surface due to the volcanically heated water.
Antarctica has two flowering plants, both of which you can find on Penguin Island: Antarctic hair grass (Deschampsia antarctica) and Antarctic pearlwort (Colobanthus quitensis). Chinstrap penguins, fur seals and southern elephant seals can also be spotted here.
Tonight will be your Farewell Dinner with the Captain and Crew, remembering, enjoying and marvelling over all you've seen in such a relatively short period of time. The time may have been short but the memories will last a lifetime.
World Explorer Breakfast, Dinner, Lunch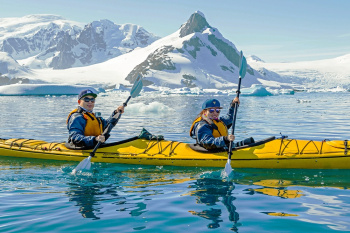 Day 7 : Bid farewell to Antarctica as we board our charter flight and head back to Punta Arenas.
This morning after bidding farewell to the Crew and boat you will return to Punta Arenas the same way you arrived - on your chartered flight above the incredible continent of Antarctica and over the Drake Passage. Upon arrival you will be transferred back to your hotel where your trip will come to an end and you are free to continue on whatever adventure you have planned for yourself.
Hotel Cabo de Hornos Breakfast
Day Highlight Flight to Punta Arenas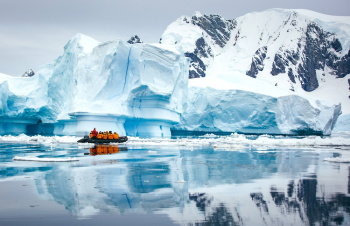 Day 8 : Bid adieu to Punta Arenas.
You can check out anytime before 12pm for your onward or return flight. You will be picked up and dropped to the airport in time for your flight.