Day 1 : On your arrival in Ulaanbaatar, you will be transferred to a centrally located hotel.
Welcome to the Land of The Eternal Blue Sky. Ulaanbaatar is a fascinating city to explore. High Fashion shops, world class cuisine, soviet architecture and traditional Gers all share the same space. Natural beauty is held in such prestige that even the grounds of the Houses of Parliament are allowed to remain in their natural state. Depending on your arrival time, the day is free for you to explore on foot from your centrally located Hotel. In the evening there will be a welcome dinner in a local restaurant before you rest and ready yourself for the adventure ahead.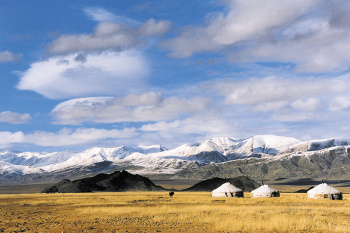 Day 2 : Explore various monasteries, museums and memorials in Ulaanbaatar.
Today after breakfast you will begin your tour of this fascinating city and its environs. Your first stop will be Gandan Monastery. Whilst many monasteries were plundered and destroyed during the Stalinist Purges of the 1930's, Gandan Monastery survived, somewhat as a showpiece for visiting Government Officials. Despite their best efforts, the officials were unable to stamp out the spirituality of the Buddhists in Mongolia and since democracy in 1990 there has been a strong renewal and practice of faith in the country. The surviving Lama's are teaching students once again how to carry on the beliefs and traditions of Mongolian Buddhism. After this visit we will return to the center of Ulaanbaatar to explore the Mongolian National Museum. This recently redesigned National Museum displays traditional implements of daily nomadic life from present day all the way to and including Stone and Bronze Age artifacts. You can see and learn about the historical costumes of Mongolia's minority tribes, admire the collection of sacred religious relics, and begin to understand the challenge of surviving in this kind of climate as you look at the agricultural, fishing, and hunting equipment that has been used over time. Following this you will visit the Zanabazar Fine Arts Museum which is named after a renowned sculptor, artist and politician from the 17th Century who also happened to be the first Buddhist leader of Mongolia. The museum contains one of the best collections of Buddhist art and artifacts in the world, including many of Zanabazar's original works. In the evening you can drive to Zaisan Memorial which was built by the Soviet Union to honour fallen soldiers from World War II. There are 300 steps to climb to get to the top of this memorial but it becomes all worth when you reach the top and can see the city of Ulaanbaatar spreading out in front of you, alongside the Tuul River and the countryside that seems to carry on forever.
Shangri-La Hotel Breakfast, Dinner
Day Highlight Gandan Monastery , Mongolian National Museum , Zanabazar Fine Arts Museum , Zaisan Memorial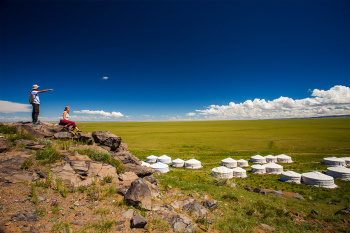 Day 3 : Fly to Murun, drive onwards to Lake Khövsgöl- the largest lake by volume in Mongolia.
Today will see us leave urbanization behind and fly to the smaller town of Murun from where we drive about 1.5 hours towards Lake Khövsgöl. Lake Khövsgöl is the largest lake by volume in Mongolia and the second largest lake by size. It's pristine water eventually flows into Lake Baikal in Siberia. The lake is over 800 feet deep and actually holds 1-2% of the world fresh water reserve. Known locally as the Dark Blue Pearl, this lake is surrounded by equally pristine and beautiful forests, mountains and steppe. Once we reach our camp and you settle into your Ger you can explore the surroundings at your leisure. Tonight will be your first experience sleeping in a Ger. These homes are so impressive in their functionality, style and comfort, these nights will certainly be ones to remember.
Breakfast, Dinner, Lunch

Day Highlight Flight to Murun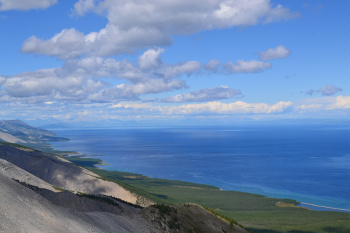 Day 4 : Enjoy a horse back ride to the Khoridal Saridag Mountains before visiting nomadic Tsaatan families.
This morning after breakfast you will get to experience a little bit of how nomadic life can be in Mongolia. After full instructions and safety briefing you will mount your trusty steed and enjoy a horse back ride to the breathtakingly scenic snow capped Khoridal Saridag Mountains, which borders the western shore of Lake Khövsgöl. From here you will get spectacular views of the lake shore. After your return to camp you can enjoy your lunch and a rest. This afternoon then you will visit some Tsaatan families and learn more about their traditional nomadic lifestyle. The Tsaatan are part of the Tuvan ethnic group, who originally come from the Tuvan Republic of Russia. There are only about 300 Tsaatan in total, living in the northern Mongolian taiga landscape. They live, survive and in many ways thrive in an environment that is more muddy marsh than tyre and tarmac. Riding horses and Reindeers as a main mode of transport, they are curious and welcoming towards those who wish to meet them and understand their way of living.
Breakfast, Dinner, Lunch

Day Highlight Horseback ride to Khoridal Saridag Mountains , Meet nomadic Tsaatan families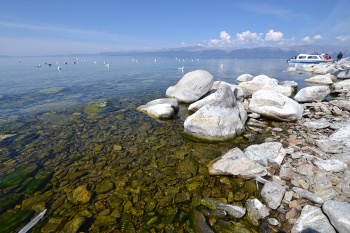 Day 5 : Drive south over several mountain passes to Zuun Nuur- Eastern Lake
Today after breakfast and packing up you will depart the northern part of Mongolia heading towards Central Mongolia by vehicle. Watch the incredible topography change as you gaze out your window. This 5 hour drive will take us over one of the highest passes in Mongolia, Tariat Pass, and on through Jargalant Soum to Zuun Nuur and your Ger camp for tonight. Along the way you will see and stop at a very prominent part of Mongolian Nomadic Culture - Ovoos. These are stones that are piled high at the top of a pass, ridge, mountain. It is a practice that is linked as far as as shamanism which is the oldest religion in the world and the oldest traces of Shamanism are said to be found in and around Siberia, the next door neighbour of Mongolia. As you pass by an Ovoos you are expected to lay 3 stones and walk around it three times in a clockwise direction to bring them good luck on their journey. Enjoy stretching your legs in your new camp once you settle in after your car journey. Consider the forever changing and incredible landscape all around you as you bed down for the night.
Ger Camp Breakfast, Dinner, Lunch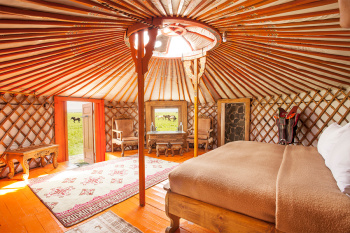 Day 6 : Drive further south through more wild, beautiful scenery in Central Mongolia, all the way to Terkhiin Tsagaan- also known as the Great White Lake.
Today's adventure sees us driving for about 4 to 5 hours through more wild, beautiful scenery in Central Mongolia all the way to Terkhiin Tsagaan, which is also known as the "Great White Lake". This lake, which is in the Khangai Mountains, is one of the highlights of Khorgo-Terkhiin Tsagaan Nuur National Park. This park was created in order to preserve and conserve the natural beauty of the area and also any endangered flora and fauna. Terkhiin Tsagaan Lake was formed when, thousands of years ago, a volcanic eruption from the nearby Horgo Volcano caused the lava which flowed out from the volcano and into the nearby Terkh river creating a natural dam. Upon arrival we will explore this area of stunning natural beauty either on horseback or on foot, depending on your choice. Tonight we will once again dine and bed down in traditional Mongolian Gers. See how each Camp is organised and decorated according to their own area, culture etc.
Ger Camp Breakfast, Dinner, Lunch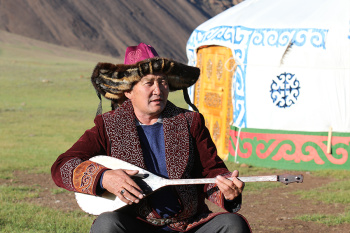 Day 7 : Drive to Karakorum, the ancient capital of the great Mongol Empire and visit Mongolia's oldest surviving monastery- Erdene Zuu.
Today we leave behind Terkhiin Tsagaan Lake and drive southeast to our next destination. The town of Kharkhorin. Made famous by the infamous Genghis Khan, this town was once a major city and one of the most important cities along the historical Silk Route. Once again it's a drive fit for adventurous travelling enthusiasts that takes approximately 4.5 hours where you will surely stop along the way to snap some photos of the incredible views. Here in Kharkhorin you will have the opportunity to visit Mongolia's oldest surviving Monasteries - Erdene Zuu - 100 Treasures, which refers to the number of original temples and chains of stupas that surrounded the monastery. Some say it dates back to 1585 whereas others say it dates back to the 8th Century. Whichever is accurate, the incredible aspect is that it is still standing today having been through a long history of persecution and destruction. It is both a museum and a monastery today, allowing you the privilege of exploring inside a building that is such a tremendous testament to will and faith. During this visit there will hopefully be the opportunity to have a private meditation session with a Head Lama of this monastery. After this you will visit the Kharkhorin Museum which is a small but mighty museum showcasing many historical artifacts from the area and particularly a model that shows what the city would have looked like during the Mongol reign when it was at its zenith. After this visit you will settle into your Ger Camp for the night.
Ger Camp Breakfast, Dinner, Lunch
Day Highlight Erdene Zuu Monastery , Kharkhorin Museum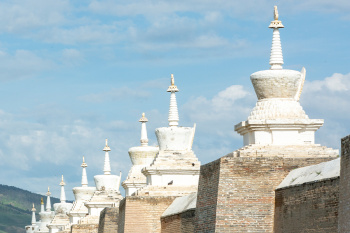 Day 8 : Drive further south to the drier, arid and rocky landscapes of Southern Mongolia to the famous Ongiin Hiid or Ongi Monastery.
After breakfast you will begin your journey further south where the landscape changes again to the more drier, arid and rocky look of the south of Mongolia and the area which borders the famous Gobi Desert. This 5 hour drive, like all of the others, promises not to disappoint with its beauty, its remoteness and its every changing look. Your destination for today is the famous Ongiin Hiid or Ongi Monastery. It is currently an active monastery with some 13 monks resident there. The current monastery is built on and around the original monastery which was once one of the largest monasteries in Mongolia. The monastery, founded in 1760 was originally built to mark the first ever visit of the Dalai Lama to Mongolia but was destroyed during the communist purges of the 1930's. After your visit you will settle into your Ger Camp, stretch your legs and enjoy the views.
Secret of Ongi Ger Camp Breakfast, Dinner, Lunch
Day Highlight Ongi Monastery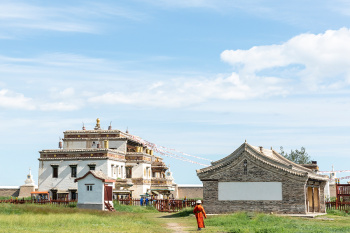 Day 9 : Visit the Yanran Inscription before driving down to the Three Camel Lodge.
Today you will take a short drive to see the Yanran Inscription. This inscription is known locally as Elgen Mountain Inscription and worldwide it is referred to as The Ceremonial Mounding of Mount Yanran Inscription. This inscription, which is carved into the mountain face, marks the strategic military victory of the Han Chinese in 89AD over the Xiongnu Nomadic Confederation. Next you will drive to Nomadic Expeditions' Three Camel Lodge Ger Camp (2.5 hours) which is located close by Bulagtai Mountain on the edge of the Gobi Gurvan Saikhan National Park. You can spend the rest of the evening at your leisure or explore the surroundings on your own. The lodge offers a wide variety of activities for travelers from reading a book on Mongolia, watching a documentary about nomadic culture, to learning traditional Mongolian games or even enjoying a relaxing massage after all those hours driving.
Three Camel Lodge Breakfast, Dinner, Lunch
Day Highlight Yanran Inscription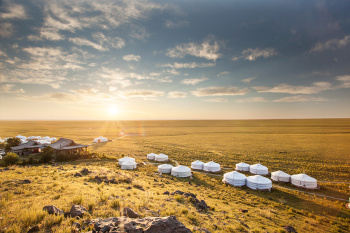 Day 10 : Hike the famous Yol Valley before visiting the Havtsgait Valley to see some petroglyphs dating back to the Pre Bronze age.
Today, after your breakfast you will drive the short distance to Yol Valley for a morning hike. This deep and narrow gorge and valley which is 7km long is named Yol, which means Lammergeier in Mongolian. It is called this, as you can imagine, because of the number of these magnificent bearded vultures that can be found circling the thermals around this Valley. After your hike you will return to your Camp for lunch. In the afternoon you will then be able to visit Havtsgait Valley. This Valley is home to some Petroglyphs which were discovered by a Russian scientist, A.P Okladnikov and date back to the Pre Bronze Age. Within a 300 metre radius there are some 84 different rock faces visible. You can hike up the steep slopes for about 35/45 minutes to reach the top of Havtsgait Mountain where you can spend ample time both exploring the incredible rock faces and admiring and enjoying the view spreading out beneath you. Return to Camp to enjoy another evening of Mongolian hospitality.
Three Camel Lodge Breakfast, Dinner, Lunch
Day Highlight Yol Valley Hike , Havtsgait Petroglyphs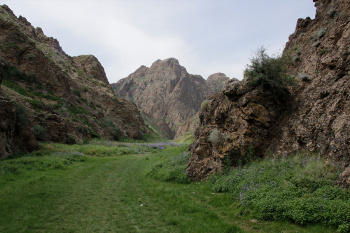 Day 11 : Visit the paleontological sites of Tugrigiin Shiree & Alag Tee where vital dinosaur fossils were discovered. Watch the sunset at the Flaming Cliffs, home of the world's first discovery of dinosaur eggs.
This morning, wake early to the sight of the sun rising over this incredible landscape and after breakfast you can begin today's adventures with a camel trek, the traditional mode of transport in the Gobi. Camels in Mongolia are known as Bactrian Camels as they have two humps as opposed to the Arabian Dromedary that has one hump. Your trek will take you to Tugrugyn Shiree, the site where the famous "Fighting Dinosaurs" fossil of a Protoceratops and Velociraptor locked in a combat position was discovered in the 1970s by a Polish Mongolian Paleontological Expedition. Explore this white-sandstone escarpment and the nearby sand dunes taking in the quietness, the solitude and the harshness of desert life. After this visit to Tugrugyn Shiree you can visit Alag Teeg which is located just 1.5 miles to the north of Tugrygyn Shiree. Known for its findings of armored dinosaurs, this small but significant locality is also a must visit especially for those interested in paleontological findings. The afternoon holds a rare special treat - a visit to the Flaming Cliffs. The Flaming Cliffs, which are about an hours drive from the camp, and have gotten their name from the colour they become when the sun shines on them at sunrise and sunset, is the home of the world's first discovery of dinosaur eggs. It was in 1923 that a team from the American Natural History Museum made the crucial, historical find. This area is said to be full of rich paleontological finds so maybe have a wander and see if or what kinds of fossils you can find! Return to camp for your evening
Three Camel Lodge Breakfast, Dinner, Lunch
Day Highlight Camel Trek to Tugrigiin Shiree & Alag Teeg , Visit to the Flaming Cliffs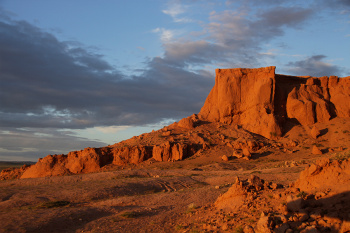 Day 12 : Capitalize on all you have learned in the last 2 days with a trip to the Dinosaur Museum in Ulaanbaatar.
Today return by flight to Ulaanbaatar and go straight to capitalize on all you learned the last two days with a trip to the Dinosaur Museum in Ulaanbaatar. This museum, as you can probably guess, showcases some of the spectacular dinosaur fossils from in and around the Gobi Desert. Some of what you will find on display at the museum are fierce Tarbosaurous fossils (closely related to the Tyrannosaurus rex), dinosaur eggs, large Hadrosaur fossils (duck-billed dinosaurs), and many others, all of which illustrate the richness and importance of the paleontological sites in the Gobi Desert. After this, carrying on with your dinosaur theme you will have the thrill of actually visiting a paleontologist lab where the technicians skillfully extract the specimen from the cover that it was wrapped in for millions of years. This lab visit will be then followed by a visit to the basement where a selection of "secret, never show to the public" fossils are being kept. After this you can spend the rest of the afternoon shopping, wandering the streets, relaxing in a cafe in downtown Ulaanbaatar before your evening meal in a local restaurant.
Shangri-La Hotel Breakfast, Dinner, Lunch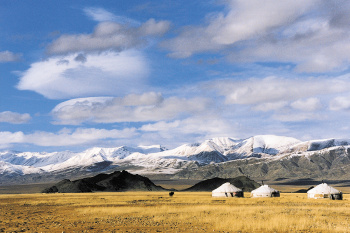 Day 13 : Visit the 131ft tall Genghis Khan statue before exploring Gorkhi Terelj National Park on foot.
This morning's drive will take you one last time out of the city and into the countryside of Mongolia but this time to visit the huge Chinggis Khan (Genghis Khan) Statue that was built in honour of one of the most famous conquerors of all times. It is said that so vast was the empire and so far reaching was Khan's rule that 1 in every 200 men in the world are descendants of Genghis Khan! The statue is 131Ft tall and shows Genghis Khan riding on horseback. It is said to be the largest statue of its kind in the world, thought to be a fitting symbol for the man from humble beginnings and his dynasty that built the largest land empire in history. After this visit you will continue on to Gorkhi Terelj National Park where, on foot you can admire, see and observe the beauty of this mountainous, steppe and forest region. After your visit you will return back to Ulaanbaatar to enjoy the remainder of your afternoon, maybe do some last minute cashmere shopping or simply soak up the atmosphere and relive the memories of such an extraordinary country.
Shangri-La Hotel Breakfast, Dinner, Lunch
Day Highlight Hiking in Gorkhi Terelj National Park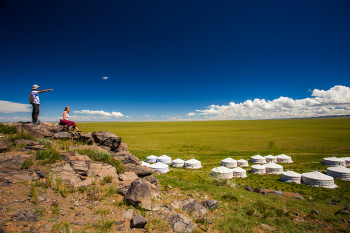 Day 14 : Bid adieu to the land of the eternal blue sky. You will be transferred to the airport basis your flight schedule.
Today you will be picked up by your guide and taken to the airport for your onward journey home.