Day 1 : Arrive in Winnipeg. Meet your group in the evening briefing with your guide.
Our representative will pick you up from the airport upon your arrival in Winnipeg. Check-in and relax or take a stroll around town. You need to be back in the hotel in time for your evening briefing with your guide. The guide will help you out with some choices for Dinner.
Holiday Inn Airport Hotel None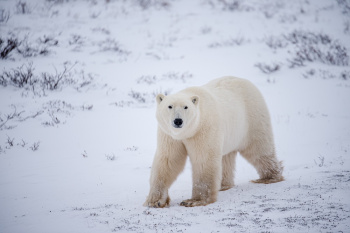 Day 2 : Begin your adventure with a flight to Churchill. Check in to your hotel before embarking on a guided tour of this Arctic frontier town.
Your adventure begins today with your flight of approximately 3 ½ hours across the vast landscape of the Canadian Northern Frontier. Once you land in Churchill you will check into your hotel and then take a tour of this frontier town. You will visit the wonderful, illustrative and detailed Parks Canada Visitor Centre to learn about the history of Churchill and its surroundings and also to view the incredible wildlife diorama that they have created. You will also visit the Polar Bear International House which has been set up to educate, teach and research about the lives and difficulties of the Polar Bear especially considering current global warming. Some other stops along the way will help you to familiarize yourself with Churchill and get a good sense of the area before more adventures start tomorrow!
Churchill Hotel and Guesthouse Breakfast, Dinner, Lunch
Day Highlight Guided tour of Churchill town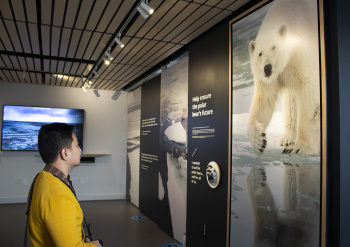 Day 3 : Spend the day tracking and observing Polar Bears in especially crafted all terrain Tundra buggies allowing for up close wildlife encounters.
Spend the day in an especially crafted Tundra Buggy that allows you to travel through this intense terrain with ease whilst keeping an eye out for and enjoying views of the local Polar Bear population. Churchill and its surroundings are known affectionately as The Polar Bear Capital of the World and this is because Polar Bear venture here as they wait patiently for the ice form so they can begin their hunts for ringed seals.
Churchill Hotel and Guesthouse Breakfast, Dinner, Lunch
Day Highlight Tundra Buggy Adventure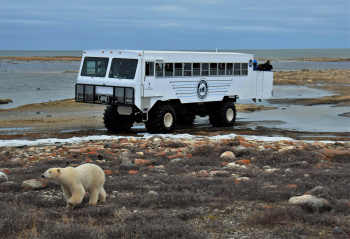 Day 4 : Enjoy a thrilling dog sledding excursion while learning about the history of this unique mode of transport. Spend the afternoon at the Itsanitaq Museum which hosts the finest collection of Inuit artifacts and carvings.
Today after breakfast you will enjoy a very unique experience - Dog Sledding. Archaeologists believe that Dog sledding first began around 1000AD and was first used by Inuit, native people in Northern Canada. So here you will experience dog sledding in the original home of dog sledding. You will learn all about the history of dog sledding as well at the history and culture of the Metis population of Canada. In the afternoon you will enjoy a visit to the Itsanitaq Museum which is the best museum in all of Canada to showcase and host the finest Inuit collections of carvings and artifacts. Some pieces in the collection date back to 1700BC. Learn about the indigenous population of this area from the pre dorset, to the dorset, thule and Inuit indigenous groups and how they managed to survive from 3000BC to this present day despite such harsh weather and living conditions.
Churchill Hotel and Guesthouse Breakfast, Dinner, Lunch
Day Highlight Dog Sledding Experience , Itsanitaq Museum visit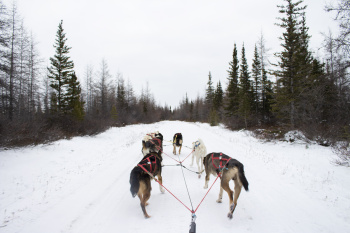 Day 5 : Head out for another Tundra Buggy adventure to track Polar Bears in their natural habitat before flying back to Winnipeg.
Today offers you another opportunity to feast your eyes on the famous Polar Bear and watch them in action before taking your flight back to Winnipeg later in the day.
Holiday Inn Airport Hotel Breakfast, Dinner, Lunch
Day Highlight Tundra Buggy Adventure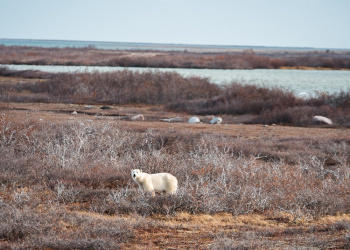 Day 6 : Transfer to the airport basis your flight schedule
Bid adieu to Winnipeg as you head back home with wonderful memories of your time in the high Canadian Arctic