Day 1 : Begin your adventure with a chartered flight from Yellowknife into Nunavut and onwards to Arctic Haven Wilderness Lodge, your home for the next 6 days.
Your Arctic adventure will begin a your 2 hour chartered flight from Yellowknife, NWT, travelling west into the territory of Nunavut and on to your home for the next 6 days - Arctic Haven on the shores of Ennadai Lake. On arrival, you will check in and settle into your accommodation before your first experience enjoying the local fare that you will be eating over the next few days. After dinner you can enjoy both your first glimpses of the northern lights and your first Sauna experience in the Arctic
Arctic Haven Wilderness Lodge Dinner
Day Highlight Charter flight to Arctic Haven Wilderness Lodge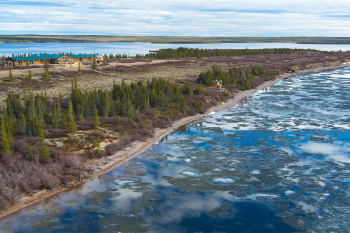 Day 2 : Kayak towards the northern side of Ennadai Lake before heading out to explore the surrounding islands and the migratory wildlife.
Breakfast is served each morning at 8.30am. After which you will begin your day's activities. Today's activities begin with a safety briefing before heading out on the waters towards the northern side of Ennadai Lake. As well as enjoying the serenity of the surroundings, you will also have the opportunity to go on small hikes on the surrounding islands exploring and observing the migratory wildlife such as caribou, wolves and wolverines. Particularly as this area is above the treeline, the scenery and landscape is just so unusual and at times surreal. This combination of wilderness and wildlife means that you definitely don't want to leave your camera behind! The indigenous people of this area are Inuit people known as Ahiarmiut and during our trip today we can visit some archaeological sites belonging to their history and story before returning to Arctic Haven to enjoy more delicious food and enjoy a talk given by Richard Weber about his 1995 historic and unrepeated unassisted Polar Expedition.
Arctic Haven Wilderness Lodge Breakfast, Dinner, Lunch
Day Highlight Kayaking excursion around Ennadai Lake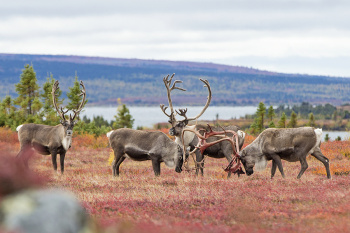 Day 3 : Embark on a day full of Heli-supported adventures- hikes, wildlife tracking and picnic lunches.
From the water of yesterday to the air of today! Today's adventure brings you high in the sky with a panoramic view via a Helicopter flight to Blind Hill Esker. From this ridge viewpoint you will hike your way through changing landscapes, maybe even picking up some wild blueberries on the way which your culinary team will turn into something delicious for you to feast on later. Stopping for a picnic lunch in this epic scenery before continuing on to an Inuit stone hunting blind. You will then end the hike at the shore and journey back to the lodge via water and boat. This evening, post your evening meal you will learn about the Ahiarmiut "People of the Deer", the indigenous Inuit people who lived along these shores until the 1950's.
Arctic Haven Wilderness Lodge Breakfast, Picnic Lunch, Dinner
Day Highlight Helicopter Ride to Blind Hill Esker
Day 4 : Boat ride to the far northern reaches of Ennadai Lake followed by a hike to Big Bear, the highest point of the lake. Return to the lodge and admire the Northern Lights in their pristine unspoilt beauty.
We will take a boat up to North Arm in the far reaches of Ennadai Lake, further into the wilderness. From here you can take a hike up to Big Bear, the highest point on the lake. Caribou are most frequently seen around here either on the land or swimming between the islands. Spend this day admiring and learning about their day to day lives. After our return to Lodge and more delicious culinary fayre you can enjoy a talk by Nansen Weber and his adventures photographing the Barren Lands - a name that goes some way to helping you imagine what the landscape looks like in this tundra where the ground is permanently frozen to within a few inches of the surface.
Arctic Haven Wilderness Lodge Breakfast, Dinner, Lunch
Day Highlight Boating excursion to North Arm
Day 5 : Try your hand at fishing today and enjoy the fresh fruits of your labour. Grayling fish, belonging to the salmon family, are found in the cold fresh waters of the extreme northern hemisphere.
Today is an adventure of a different kind - for those that wish to either simply view or for those that wish to experience - you can board the helicopter to be dropped off at the fishing spot and try your hand at fishing - a fish of a particular kind - a Grayling Fish, known to be a mighty opponent to those who fish! From the family of Salmon, this fish is to be found in the cold fresh waters of the extreme northern hemisphere, certainly a local delicacy for you to enjoy. At lunch you can enjoy the freshest fish you have ever tasted before continuing to enjoy the magnificent outdoors before heading back to the lodge. Even if fishing is not for you this landscape and day will delight in many ways. After dinner you can settle in to enjoy an informal lecture all about the mythology and folklore of the Northern Lights.
Arctic Haven Wilderness Lodge Breakfast, Dinner, Lunch
Day 6 : Choose between a fun, active day on the fat bike or paddle your way through remote inlets in a Kayak. Learn about local edible Tundra flora and fauna.
With no day promising to be the same up here in the Arctic, today you have another unique adventure waiting for you - or in fact the option of two different days - one on land and one on the water! You can choose between a fun active day on a fat bike (so called because of the overly large size of the tyres, perfect for this terrain) along the esker ridge, looking down on the marshy tundra below with a greatest vantage point all around. Alternatively you can take out a sea kayak and paddle your way through the lake through the islands populated by the caribou amongst other wildlife and spend the day observing and enjoying the quiet. Tonight after your final culinary delight you will be given a talk and demonstration by Josee Auclair on the local edible tundra sourced items.
Arctic Haven Wilderness Lodge Breakfast, Dinner, Lunch

Optional Activities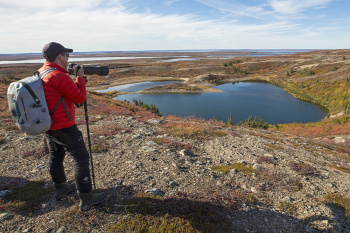 Day 7 : Enjoy one last boating adventure up the Karzan River while looking for Arctic wolves before heading back to Yellowknife aboard your charter flight.
Your final adventure of this trip is a boat journey up the Karzan River with an option of a short hike to help stretch the legs before you begin your journey back towards the more populated parts of the world! This area is beautiful as you will be able to see the tundra turn to forest where the treeline returns and birch and black spruce abound. Post this morning activity you will take your return flight to Yellowknife and begin your onward journey home.
Breakfast

Day Highlight Charter flight to Yellowknife