The mythical creatures of Chile
Do you believe in Legends and Myths? We do! And so does Rohan Prakash, our CEO, who was mesmerized by the fun and spooky tales he heard from his local guides in Chile.
From giant creatures and beautiful mermaids to ghost ships and magic statues, the people of Chile have a rich tradition of myth and legend that reflects the country's unique landscape, culture, and traditions. And if you are visiting the country, trust us they will come alive at every corner. Here are just a few of the funniest and most amusing myths and stories that the local guides told Rohan about.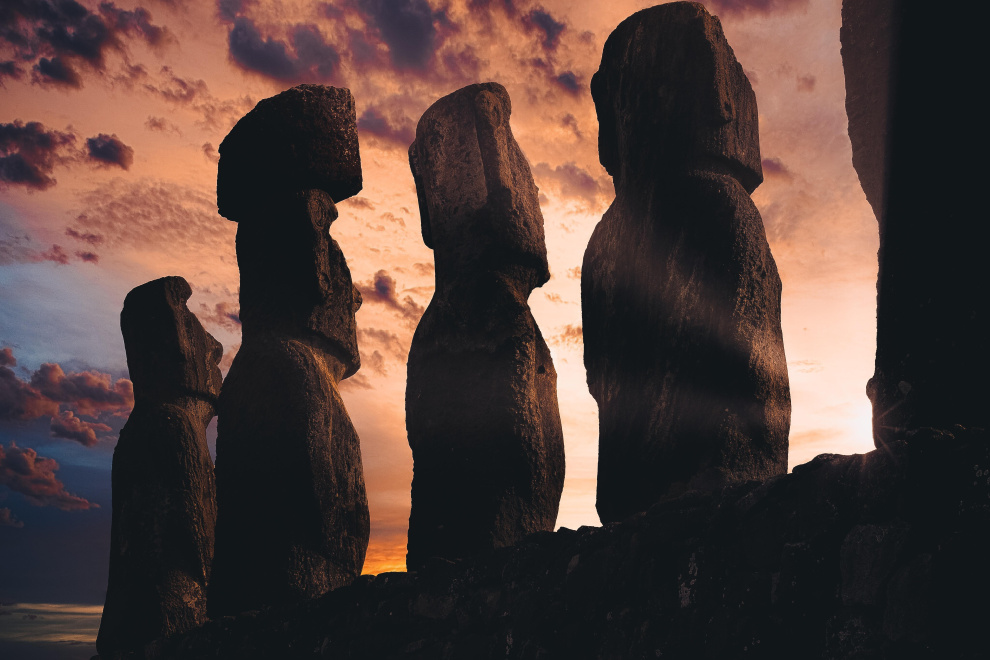 Legend of the Chilote Giant
Who?
First up, we have the Chilote giant. According to legend, this giant was a fearsome creature that roamed the forests of southern Chile.
He was said to be so tall that he could reach up and touch the sky, and his strength was so great that he could move mountains with ease.
But despite his impressive size and strength, the Chilote giant was actually quite a gentle creature.
Known for?
He was known for his love of children, and would often carry them on his shoulders as he walked through the forest (Inspiration for Santa Klaus maybe?).
The only time he was known to get angry was when someone tried to mess with his kids – in which case, all bets were off.
Meet the beautiful Pincoya
Who?
Next, we have the Pincoya, a beautiful mermaid-like creature that was said to live in the coastal waters of Chile.
The Pincoya was known for her long, flowing hair and her delicate, shimmering scales, and was said to be the guardian of the ocean.
Known for?
She was believed to have the power to bring prosperity and good fortune to those who respected the sea, but would punish those who took its resources without regard.
However, it was rumoured that the Pincoya had a bit of a sweet tooth, and would often sneak up on fishermen and steal their candy when they weren't looking.
Say Hello to the mischievous Caleuche
Who?
Speaking of mischievous creatures, let's talk about the Caleuche, a ghost ship that was said to sail the waters of Chile's lakes and rivers.
According to legend, the Caleuche was manned by a crew of ghosts and was led by a captain who was said to be a powerful magician.
Known for?
The ship was said to appear only on the darkest and stormiest of nights, and would often be seen dancing on the waves, its ghostly crew singing and laughing as they sailed through the darkness.
But despite their spooky reputation, it was rumoured that the ghosts of the Caleuche were actually quite a fun-loving bunch and were known to play pranks on unsuspecting humans whenever they got the chance.
Mystery of the Easter Island
What?
The island is known for its ancient stone statues, called moai, that have amazed and intrigued people since their discovery.
Believed to have been created by the Rapa Nui people, the statues have numerous legends surrounding them.
However, much of the history and culture of Easter Island remains shrouded in mystery.
Some of the popular theories include that the statues walked to their spots, some believe aliens were involved...the theories are endless!
Tricks and treats at El Tatio Geysers
Who?
Finally, we have the El Tatio geysers, which are said to be home to powerful spirits that can be heard singing and laughing as the geysers erupt.
According to legend, these spirits were mischievous and playful, and would often play tricks on unsuspecting humans who ventured too close to the geysers.
Known for?
But despite their mischievous ways, it was said that the spirits of the El Tatio geysers were also very generous, and would often grant wishes to those who treated them with respect and kindness.
So there you have it – just a few of the funniest and most amusing myths and stories from Chile. Legends or Myths? Who knows but it is always fascinating to witness and set foot on lands whereby the mind can wander free and participate in unravelling mysteries. Visit this fascinating land to discover many more!
Ready to embark on your next adventure? Fill out the form below and let our experts curate your dream getaway!
All Fields are mandatory*