Penguins in Antarctica
Did you know penguins evolved to swim underwater? And that there are 17 species of penguin on the planet? Penguins are fascinating creatures that have got us awwing and intrigued in equal measures, ever since the show Pingu aired on television. And rightly so! These adorable, waddling birds are friendly and curious and absolutely love humans. While you can spot them around the world, we'd argue that the best place to see them in the wild is Antarctica and its nearby islands! Out of the 17 species of penguins, eight of them call the continent of extremes and sub-Antarctic archipelagos home (it fits, because they are 'extremely' cute as well). Here's a guide to spotting and recognising them!
Adelie Penguins
Adelie penguins spend the winter in the seas surrounding the Antarctic and the rest of the year on the many small coastal islands. And they are a bit of a showman. They love showing off their amazing swimming abilities and are pretty amazing divers! They have been known to plunge as deep as 575 feet and travel 185 miles round-trip to find a meal. Honestly, same! (#LoveForFood)
How do we recognize them?
They have a black and white plumage with a small ring of white feathers surrounding each eye.
Where can we spot them?
The Antarctic region is the only place where these amazing birds live. Typically, they inhabit rocky beaches along the coastline of Antarctica and offshore islands, preferring areas that are free of ice. However, the highest concentration of these penguins is in the Ross Sea.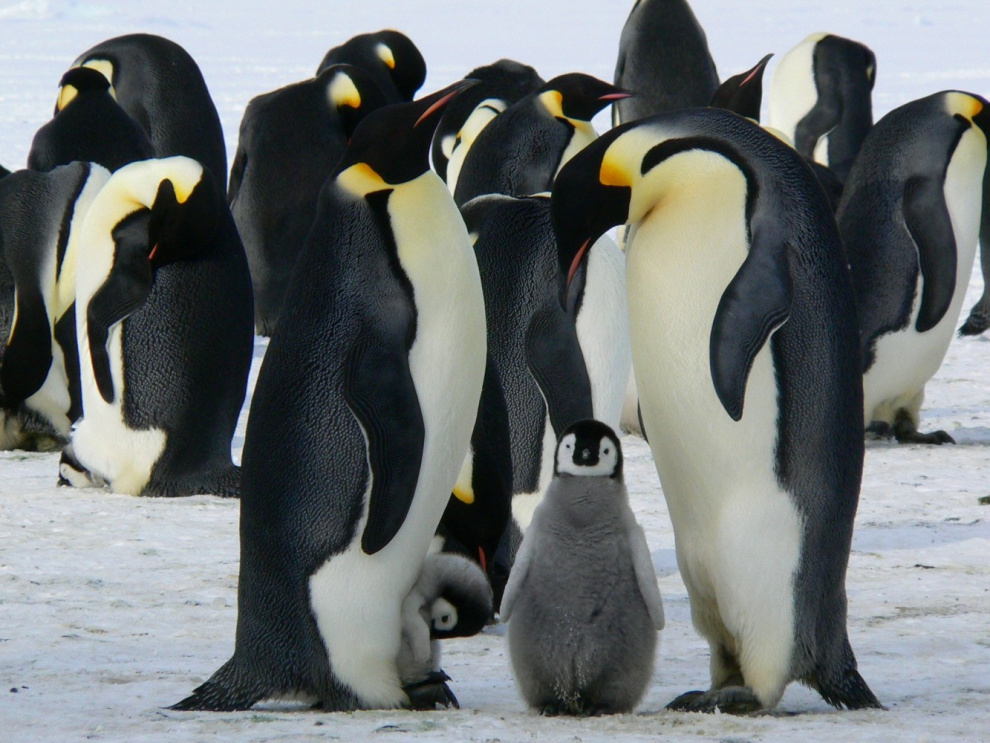 Emperor Penguins
Did you know most Emperor Penguins never actually step foot on land? They breed entirely on sea ice! But the cutest fact about them? They use their community to stay warm. They huddle together and take shifts standing on the outside of the huddle. This way, everyone has a fair chance to be at the warmest spot deep inside (Awww!). The male penguins even keep their eggs warm by balancing them on their feet and covering them with their feathers. However, Emperor Penguins are the least seen on Antarctic voyages as they are mainly found inland.
How do we recognize them?
Emperor penguins are the largest (reaching around 4 feet), boldest, and most well-dressed of all penguin species. Pingu's family belonged to this species!
Where can we spot them?
The Emperor Penguin colonies are located in the south of Antarctica in areas that are blocked by ice for most of the year. Their colonies are way deeper in Continental Antarctica and can only be spotted on expeditions specially planned to visit their colonies. We hope to see Emperors on our Weddell Sea voyages and the Ross Sea journeys.
King Penguins
If you've ever seen videos of penguins waddling on shore in Antarctica, they are probably King Penguins! Graceful underwater, they are less so on land, preferring to waddle or 'toboggan' as a means to get around. They live in dense colonies, called rookeries, among tussock grass and gently sloping beaches and are the second largest penguin species. One colony in South Georgia is estimated to have over 200,000 birds!
How do we recognize them?
King penguins look similar to emperor penguins, with yellow plumage accentuating their black-and-white pattern.
Where can we spot them?
To see Kings in the wild you need to hop on a cruise that includes some sub-Antarctic islands (on the regular Antarctic Peninsula cruises you will not encounter king penguins). Normally the best choice is a Falklands, South Georgia and Antarctica itinerary – alternatively a Ross Sea voyage with Macquarie Island.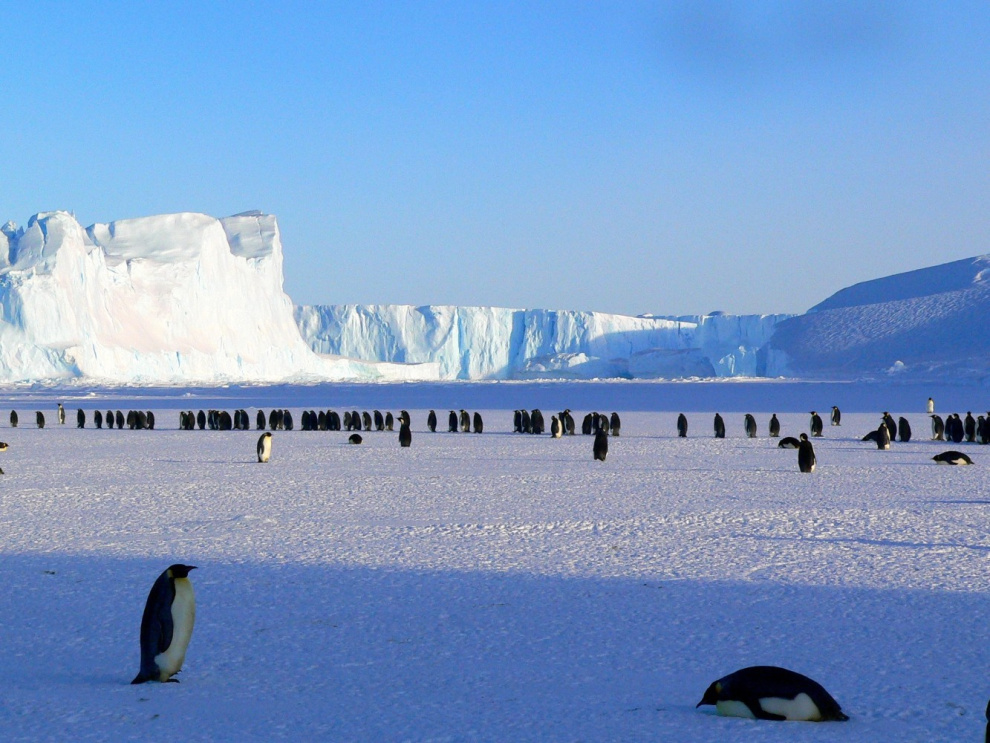 Chinstrap penguins
Called so because of the thin black band under their chins, Chinstrap Penguins are the most recognizable and abundantly found penguin in Antarctica. They are the extroverts of the penguin world, gathering in large numbers and communicating by loud gestures. But it's their breeding practice that is the most interesting and dramatic facet about them. Male chinstraps race to find the very best nests, and then wait for their mates to arrive. If a male can't find a nest to his liking, he may try to force couples who have settled in out of their nests. Once he has a nest, he'll give his mate five days to show up, and then he's moving on. If his original mate catches him with another lady, however, the female penguins will fight over his affections. Straight out of a drama series!
How do we recognize them?
They have a little band of black feathers that run from the black markings on top of their head, through the white underside of their chin and back up - exactly like the chinstrap of a bike helmet.
Where can we spot them?
They live in Antarctica and in the Scotia Sea, the South Orkneys, the South Shetland Islands and on the South Sandwich Islands, where the largest of their colonies are found. They are also on the beachfront of the Southern Ocean, and are often in rocky or sandy habitats. They are one of the most abundant species of penguins in antarctica and easily spotted.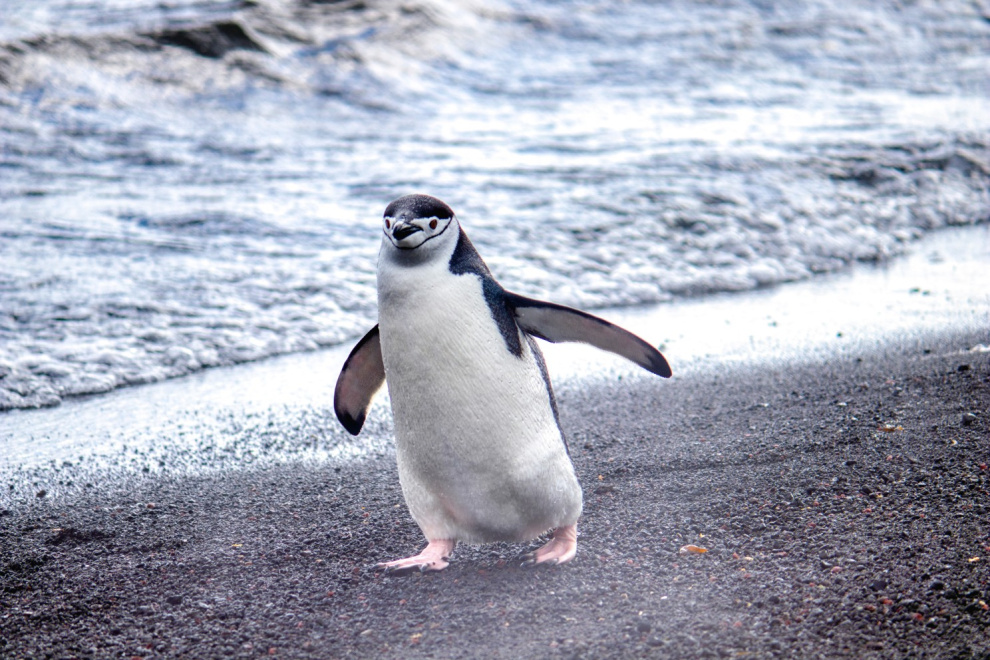 Gentoo Penguins
The Flash of the penguin world, they've been known to reach a speed of 22 miles per hour underwater but on land? not so much! Land is for lazing where they build their nest with small stones and sticks. The male penguins are also popularly known to woo the females with gifts of stone (yes, Instagram was right) which they steal from other penguins' nests! And if they are spotted, there are usually territorial fights. Keeping land matters aside, Gentoos are known to spend a majority of their day hunting krill, squid, and fish. They are the third-largest penguin species and usually weigh around 12 pounds.
How do we recognize them?
The gentoo penguins are easily recognized by the wide, white stripe extending like a bonnet across the top of their head and their bright orange-red bill.
Where can we spot them?
Gentoo penguins have a large geographic range. They breed on many sub-Antarctic islands and on the Antarctic Peninsula. They generally occupy their islands all year round. The largest populations of gentoo penguins are in the Falkland Islands (South Georgia), and on the Antarctic Peninsula, can be easily spotted on your Antarctic voyage.
Macaroni Penguins
If emperor and king penguins are classy and well-dressed, macaroni penguins are the most eccentric. Small and stout, their most recognizable feature is their bright, spiky, orange eyebrows. They also have a very distinctive call and can recognise each other among a whole bunch of noisy penguins… and you guessed it right they are the loudest. With an estimated population of 12 million breeding pairs, macaroni penguins are the most numerous, but only a proportion of them live in the Antarctic region.
How do we recognize them?
Macaroni Penguins have a crest on their forehead, formed by long orange-yellow and black feathers, extending to the ear coverts on either side of their head
Where can we spot them?
Macaroni penguins are seen on the sub–Antarctic Islands and, occasionally, on the northwestern Antarctic Peninsula and its adjacent islands. The largest breeding populations are found on the islands of South Georgia, Crozet, Kerguelen, Heard and McDonald.
Rockhopper Penguins
These penguins get their names from their distinct method of moving around. As the name suggests, they like to hop from stone to stone in the rockier parts of the northern Antarctic islands. Unlike other species of penguins, Rockhoppers can become quite aggressive with each other, slapping each other with their flippers when an argument ensues about mating, nesting sites, and food. They are well known for being very loud, and communicating signals to each other.
How do we recognize them?
The rockhoppers are one of the more ornate penguins, decorated with yellow eyebrows used to attract a mate. When they shake their heads extremely, their yellow brow looks like a halo.
Where can we spot them?
All rockhopper penguins are found on islands surrounding Antarctica (Falklands Islands) and New Zealand, as well as the southern tip of South America. They are not easily spotted on Antarctic cruises, unless a visit to Falklands Island is on the cards.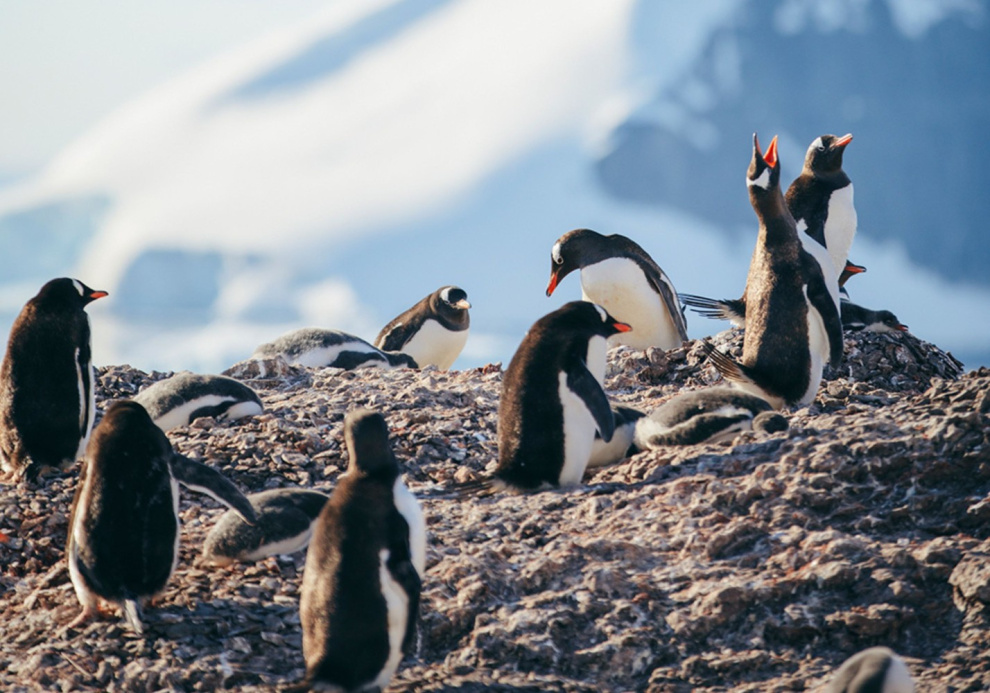 Magellanic Penguins
Named after Ferdinand Magellan, an explorer who was the first to see them in 1519 while voyaging around the bottom of Chile and Argentina. Magellanic penguins are found in the Falkland Islands but also higher north (that's why most of the blogs and articles you see don't include them in Antarctic penguin species). These penguins stick together in their flock when hunting and join larger colonies on land when breeding season begins. They tend to be shy around humans, running for cover in their nesting burrows if people are near. Magellanic Penguins have adapted to the warm temperatures by panting like a dog and extending their flippers to release the extra heat when they get hot.
How do we recognize them?
They are medium-sized penguins, and have black backs and white abdomens. They also have a special gland above their eyes, which allows them to excrete all the salt they swallow while fishing (how cool!).
Where can we spot them?
Magellanic Penguins build their nests during the breeding season along the rocky, sandy beaches of the southern coasts of Argentina and Chile and on the Falkland Islands. To spot these shy flightless birds, include a visit to Falklands in your Antarctica itinerary.
Wasn't that interesting to read? Imagine spotting them in the wild… it's a whole another experience when their curious faces waddle up to you on shore without any fear or shyness. Experience all this and more with an expedition to the most southerly and mysterious continent. Our trips are a perfect first introduction to the Antarctic wilderness. Book an expedition today by dropping us a hi in the comments.
PS: If you want to know more about the Antarctic wildlife, read our latest articles on the whale species you can spot in Antarctica - UnWild Planet
Ready to embark on your next adventure? Fill out the form below and let our experts curate your dream getaway!
All Fields are mandatory*