Carnival in Rio: Your All-Inclusive Guide to Brazil's Vibrant Festivities
The legendary Carnival of Rio de Janeiro celebrates dancing, singing, and pure joy. This annual festival is a sensory delight, drawing both locals and visitors to enjoy themselves in the rich cultural heritage and infectious energy that fills the air. The highlight of the celebrations takes place at the famous Sambadrome, where the parade happens. This place was designed specifically for the impressive samba school parades. Starting from 9 pm and lasting until morning, you can watch dancers wearing fancy costumes and large, gorgeous floats at the Sambadrome. As Carnival season unfolds, the streets come alive with hundreds of blocos and parties on every corner, guided by the infectious beat of tamborim drums.
In this guide, we'll lead you on a journey through the best time to visit, insider tips for an unforgettable experience, and how to savour the culinary delights of Carnival
When Should You Visit?
Carnival in Rio occurs each year in the week leading up to Ash Wednesday, usually in late February or early March. This five-day spectacle is the highlight of Brazil's social calendar. The atmosphere is electric, with anticipation building in the weeks leading up to the grand event.
Insider Tips for an Unforgettable Carnival Experience:
Book Early: To secure the best accommodation and flight deals, it is advisable to book your Carnival trip well in advance. Hotels and flights tend to fill up quickly, and the prices surge closer to the event.
Embrace the Spirit: Immerse yourself in the friendly and inclusive atmosphere of Carnival. Engage with locals, learn a few phrases in Portuguese, and allow yourself to be swept away by the contagious energy that surrounds the city.
Costumes and Accessories: Wearing costumes and accessories is integral to the Carnival experience. Join in the fun by dressing up in vibrant colours, glitter, and feathers. Let your creativity soar!
Safety First: While Carnival is a jubilant celebration, it's essential to be cautious of pickpockets and keep your belongings secure. Avoid displaying expensive jewellery or carrying excessive amounts of cash
Getting to know the local culture:
Sambadrome - The Parade
A cornerstone of Carnival in Rio, the Sambadrome parade is an unforgettable spectacle that showcases the talent and creativity of samba schools.
These schools invest months of preparation to present their elaborate floats and mesmerizing dance routines, each depicting unique themes and stories.
UnWild Planet Tip: To witness this extravaganza, you can purchase tickets for the grandstands, frisas (box seats), or camarotes (luxury suites). The schedule of performances is available beforehand, so you can plan which night to attend based on your favourite samba schools.
Attending Street Parties (Blocos)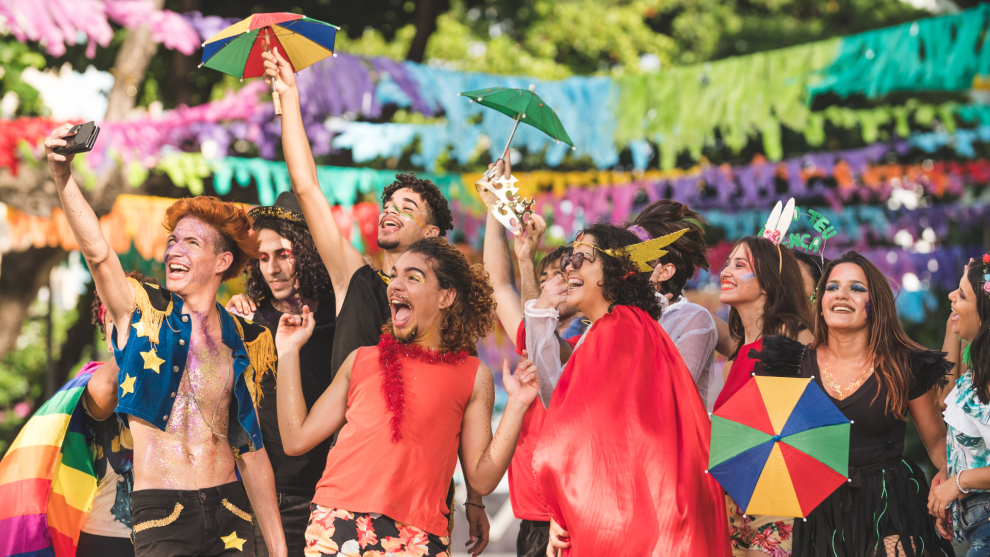 The lifeblood of Carnival lies in its street parties, fondly referred to as blocos. These vibrant open-air festivities are scattered throughout the city and showcase a diverse array of musical genres, ranging from samba to funk and everything in between.
Among the well-loved blocos are "Cordão da Bola Preta" and "Monobloco".
UnWild Planet Tip: To fully revel in these street parties, opt for comfortable attire and shoes since the celebrations can extend for hours. Show reverence for local customs by savoring delectable regional delicacies and joining in the collective merriment of dance and song.
Culinary Delights of Carnival
Carnival is a gastronomic delight that stimulates the taste buds with a diverse array of flavours. Indulge in traditional Brazilian dishes such as feijoada (a hearty stew of black beans and various meats), coxinha (chicken croquettes), and pão de queijo (cheese bread). The city's vibrant food markets and street vendors offer a feast for the senses, allowing you to taste the true essence of Brazilian cuisine.
Beyond the Carnival: Exploring Rio de Janeiro
When the vibrant rhythms of Carnival subside, Rio de Janeiro unveils a world of enchanting treasures waiting to be discovered. UnWild Planet invites you to delve deeper into this beautiful city, where every corner holds a unique story
1. A Stroll through History
Wander the cobbled streets of Santa Teresa and feel the echoes of Rio's past. Explore colonial architecture, quaint art studios, and the iconic yellow tram that winds through this charming neighbourhood
2. Nature's Retreat
Discover Tijuca National Park, a lush oasis nestled within the city. Embark on a hike to Corcovado Mountain, where the iconic Christ the Redeemer statue stands, offering breathtaking panoramic views
3. Beach Bliss
While Copacabana and Ipanema beaches are world-renowned, venture to Prainha Beach for a more secluded paradise. Surrounded by lush green hills, this hidden gem promises tranquility and stunning Atlantic vistas
4. Arts and Culture
Immerse yourself in Rio's cultural scene at the Museum of Tomorrow, a futuristic marvel exploring sustainability, or visit the Selarón Steps, an iconic mosaic staircase adorned with vivid tiles from around the world
Responsible Travel during Rio Carnival
UnWild Planet advocates #RethinkingTravel and cares for both our travellers and the destinations we explore. While joining the exuberance of Rio Carnival, let's ensure our merriment is sustainable and respectful
Eco-Friendly Glitter - Embrace eco-conscious celebrations by opting for biodegradable glitter and body paint. Leave no trace while shimmering under the Carnival lights
Reusable Bottles - Stay hydrated and sustainable by carrying a refillable water bottle. Help reduce plastic waste and keep the streets of Rio clean
Local Artisans - Support local artisans by purchasing handmade souvenirs and costumes, contributing directly to the livelihood of Rio's creative communities
Cultural Respect - Immerse yourself in local customs and traditions. Learn a few Portuguese phrases, dance to samba rhythms, and engage respectfully with the vibrant culture around you
Rio de Janeiro and its iconic Carnival are inseparable, intertwined in a passionate embrace. This grand celebration embodies the very essence of the city's allure, attracting visitors from every corner of the globe. As you immerse yourself in this incredible spectacle, you'll find yourself enchanted by the collective joy and unity that pervades the streets. Rio's Carnival is not merely an event; it's a transformative experience that will leave an indelible mark on your heart and soul. So, let your spirit soar and embrace the magic of Carnival in Rio de Janeiro!
Ready to embark on your next adventure? Fill out the form below and let our experts curate your dream getaway!
All Fields are mandatory*