Beyond the Basics: What To Pack For Your Antarctic Expedition
Why packing the right gear is important! Embarking on an adventure to far-flung destinations and facing extreme weather conditions can be an incredibly exhilarating experience! However, it is imperative to exercise prudence while packing for such expeditions. When traveling to remote and cold regions like Antarctica, it is essential to be well-prepared. One cannot simply purchase necessary gear upon arrival, and without proper equipment, one's journey could be significantly impacted or even jeopardized.
Allow us to present your comprehensive clothing and gear guide for your expedition to the White Continent!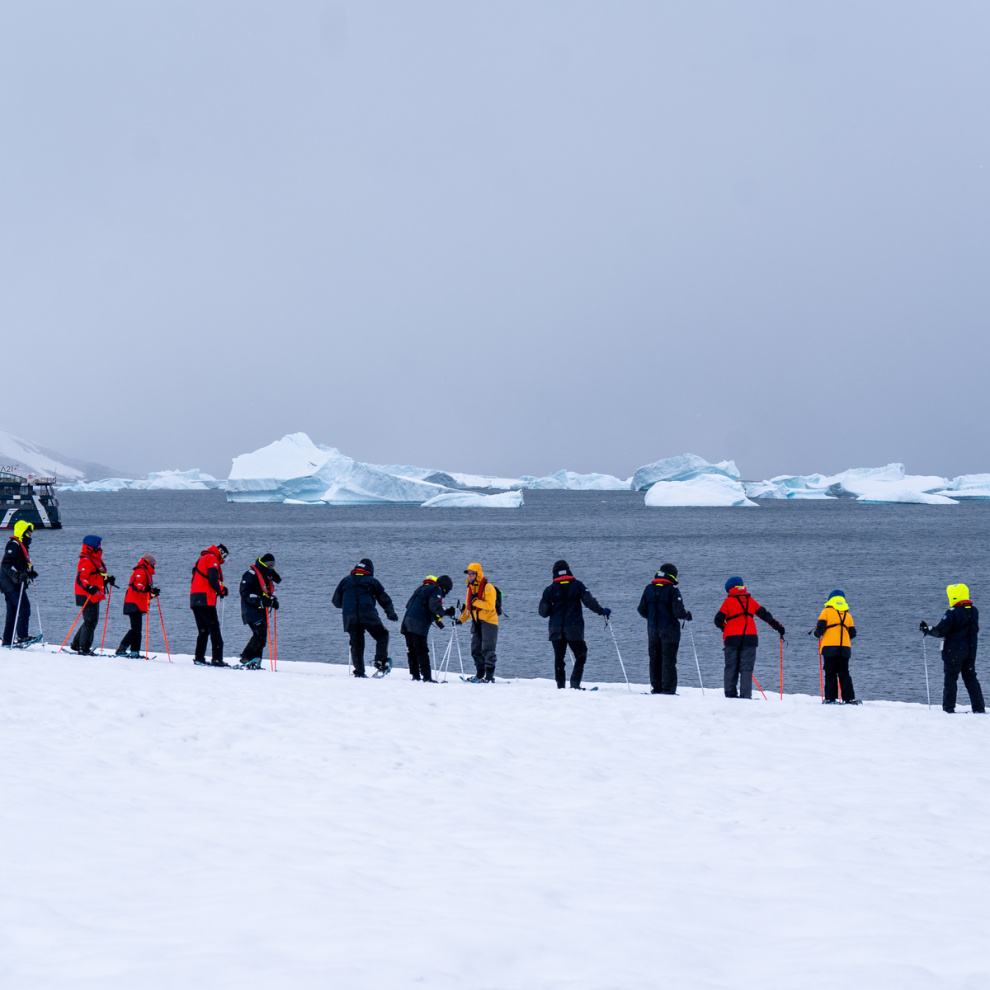 What to pack
Let's start with the basics
While preparing for your trip to Antarctica, it is important to avoid over-packing your winter wardrobe! Instead, opt for a versatile mix of short and long-sleeved tops, including thermal ones that can be layered for added warmth. Considering the warmth of your ship's interiors, you may find yourself frequently peeling off layers while indoors and putting them back on as you step outside. Hence, packing appropriately will ensure that you are equipped for every situation.
Layering is the name of the game in Antarctica.
Start with a warm wool or wool blend base layer to keep you toasty. It is essential to steer clear of cotton, which has a tendency to retain moisture, leaving you feeling cold and damp.
Opting for a comfortable fleece or poly blend layer that fits well over your base layer is an excellent way to enhance your insulation. It is worth keeping in mind that several thin layers are superior to one bulky layer, allowing for more flexibility and mobility while keeping you warm.
Have an outer layer that is waterproof to stay dry and cozy during your icy excursions. This layer will act as a protective shield against harsh winds, snow, and other elements, ensuring that you remain comfortable and dry throughout your adventures.
It is essential to pay attention to the significance of insulated, waterproof pants, and boots for your lower half. With the proper layers, you will be ready to brave the cold and explore the frozen land of Antarctica!
Now, coming to gear and other things to pack:
Designed for extreme weather conditions, they provide excellent insulation and keep feet dry in wet and muddy environments. Additionally, their sturdy design and slip-resistant outsoles provide excellent traction, preventing slips and falls on slippery or uneven terrains.
Seasickness can be a concern, especially when crossing the Drake Passage. Speak to your doctor before your trip and pack anti-nausea medication just in case.
Yes, the sun shines in Antarctica, so pack sunglasses with UV protection, broad-spectrum sunscreen, and SPF lip balm. Despite feeling constantly cold, the sun's reflection off the ice and snow can cause tanning and sunburn. To prevent skin damage, it is crucial to use a water-resistant sunscreen with at least 30 SPF and Zinc Oxide. This will offer effective protection against harmful UV rays.
Antarctica's dry and windy conditions can be tough on your skin, so remember to pack and apply moisturizer daily to keep it healthy and hydrated. Your skin will thank you for the extra care!
Look for a moisturizer that is rich in emollients and humectants, such as glycerin, hyaluronic acid, and shea butter, which help to retain moisture and prevent dryness. Additionally, it is beneficial to select a moisturizer that has antioxidants like Vitamin E and C, as they can help to repair and protect the skin from damage caused by harsh weather conditions. A fragrance-free, non-greasy formula is also recommended to prevent skin irritation and maintain comfort throughout your expedition.
To ensure your comfort during ship-bound relaxation, it is a good idea to pack a pair of comfortable shoes.
You will want gloves that provide warmth, protection, and dexterity. it is recommended to pack a couple of different types of gloves for varying activities and conditions. Here are some options:
Heavy-duty waterproof gloves:
These gloves are essential for outdoor activities such as snowmobiling, skiing, or hiking. They should be insulated with materials such as Gore-Tex or Thinsulate and provide ample protection against cold winds and snow.
These gloves are great for everyday wear when you are not engaged in outdoor activities. They are comfortable and provide enough warmth for mild weather conditions.
These thin gloves can be worn underneath heavier gloves for extra warmth or worn alone when you need more dexterity. Look for gloves made of materials like silk or polyester for added comfort.
It is a good idea to choose a beanie that is snug-fitting, so it stays in place and covers your ears properly. A beanie that covers the forehead and the back of the neck can be especially helpful in keeping you warm and protected from the wind. Additionally, some beanies may have features like a built-in lining or ear flaps for added warmth and protection.
When packing a neck gaiter for Antarctica, it is important to choose one that is warm, breathable, and moisture-wicking. Look for materials such as merino wool or synthetic fibers like polyester or nylon that will provide insulation while also keeping you dry. A neck gaiter with adjustable or elastic drawstrings can also help to keep out the wind and snow.
​​​​​​​It is recommended to wear two pairs of socks - a thin liner sock and a thicker insulating sock. This layering will provide additional warmth and help prevent blisters. Make sure to also pack enough socks for the duration of your trip, as it may be difficult to do laundry in Antarctica.
Polar Parkas!
A warm, waterproof jacket is essential for Antarctica, however, you might not have to bring your own polar expedition parka!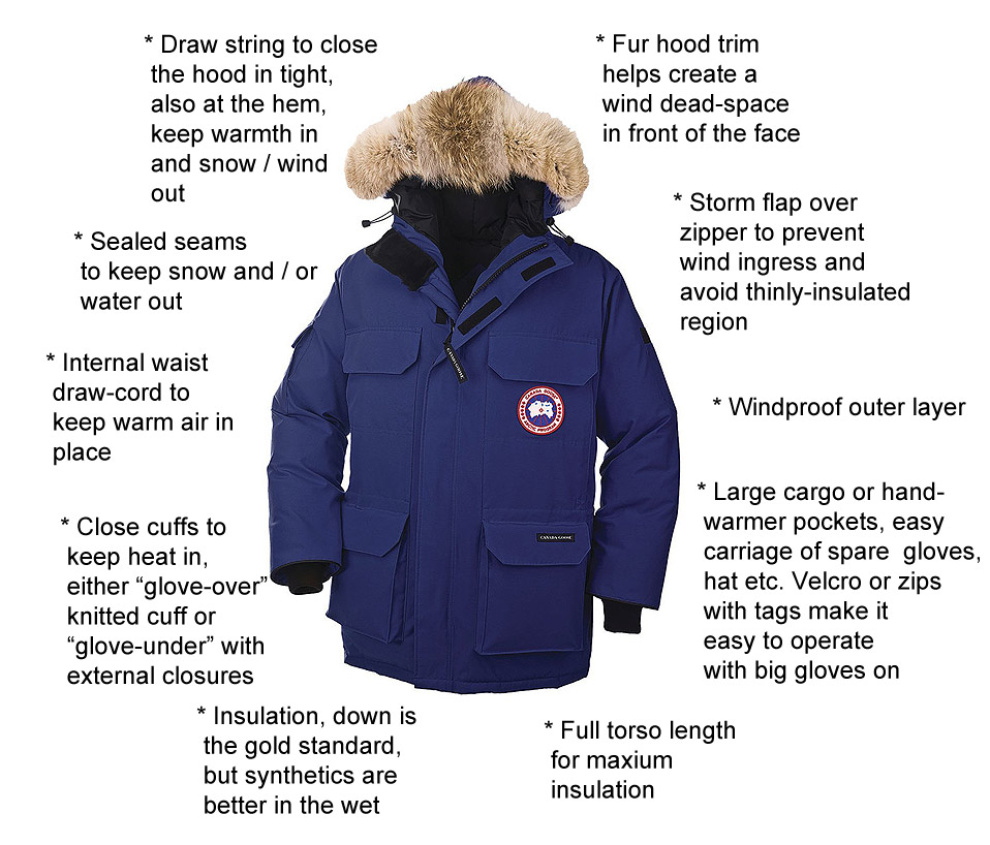 Image Source: Cool Antarctica
Many Antarctic cruise companies provide them to ensure everyone stays warm and easily identifiable on shore.
To ensure you are well-prepared, it is important to check with your tour operator whether they offer a parka. If they do, you are good to go.
But if they do not, consider finding a jacket that is warm, windproof, has a removable down inner layer, and features a waterproof outer shell.
If a parka is provided, it is yours to keep, so if you think you will use it again, leave enough space in your luggage to take it back home with you.
Things to consider when buying Polar Parkas:
Consider buying a parka with a hood and well-designed hand warmer pockets. Choosing a versatile jacket will allow you to use it multiple times.
This is important because down jackets are prone to losing their insulation properties when wet. While they can handle some moisture, a synthetic jacket is much better at keeping you dry during heavy rain.
Look for wind-resistant outer fabrics and adjustable cuffs to help protect you from those strong, polar winds!
Warmth and Weight:
Outer parkas can range from very light to very heavy. The lightest jackets, weighing around 200 grams, use down fill and offer an excellent weight-to-warmth ratio. However, for the cold Antarctic weather, lightweight jackets are not sufficient. you will need a heavier jacket to stay warm in those conditions.
Alright adventurers, just remember to prioritize function over fashion and you are all set! You will not be worrying much about your wardrobe anyway with the stunning sights of icebergs, penguins, and the northern lights!
If icy adventures are your thing, come explore Greenland!: Your Guide to Greenland (linkedin.com)