8 species that are only found on the Galapagos Islands!
8 species that are only found on the Galapagos Islands!
The Galapagos Islands are world-famous - and not for nothing! The island is known as a source of inspiration for Darwin's Theory of Evolution and is home to a variety of wildlife. 97% of the Galapagos landmass is officially designated a national park; talk about the chance to step right into a wildlife documentary!
Just as this island left a lasting impression on Darwin, it is sure to sweep you off your feet with its unique landscapes and the opportunity to observe beautiful, endemic animals from a close range. Here are some of the most unique species to spot on your trip to the Galapagos:
Giant Tortoises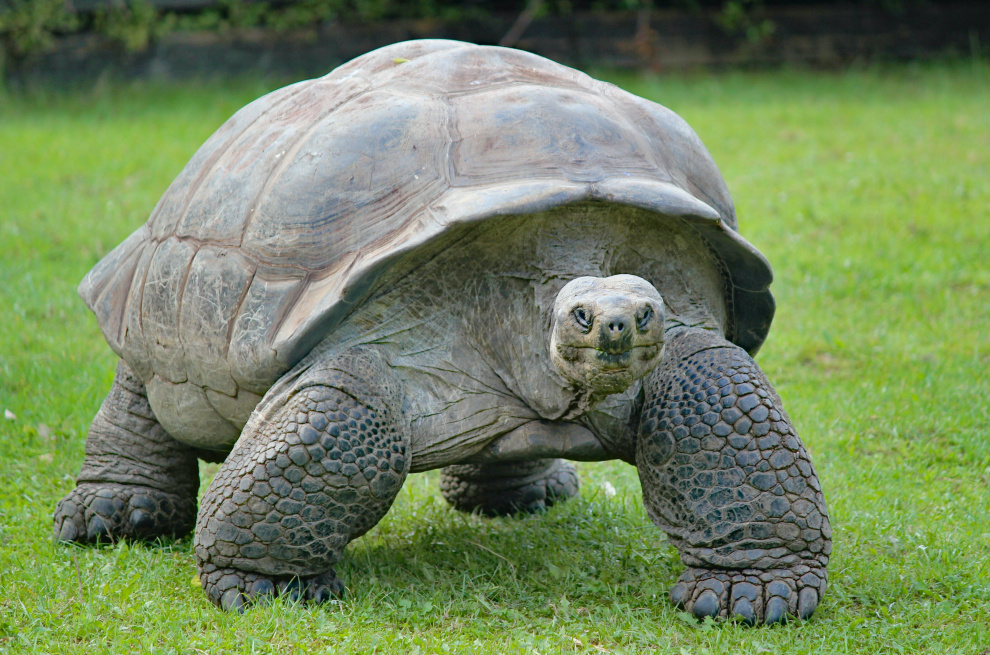 The Galapagos has been a home to the world's largest tortoises for roughly more than a 100 years and they have also lived the longest out of many land vertebrates. Not only that, the name of the island itself is inspired by them! (Galapago in Spanish means tortoise).
Characteristics: Their lifespan, unsurprisingly, is around 100-150 years on average. Although the most exciting characteristic of these tortoises is that they weigh more than 450 pounds with some species exceeding five feet in length.
Where can you spot them?
Galapagos tortoises lead a life of leisure while they bask in the sun, rest for about 16 hours a day and graze on grass. Places you can spot them include Santa Cruz Island, San Cristobal Island, Isabela Island, and Floreana Island.
Galapagos Penguins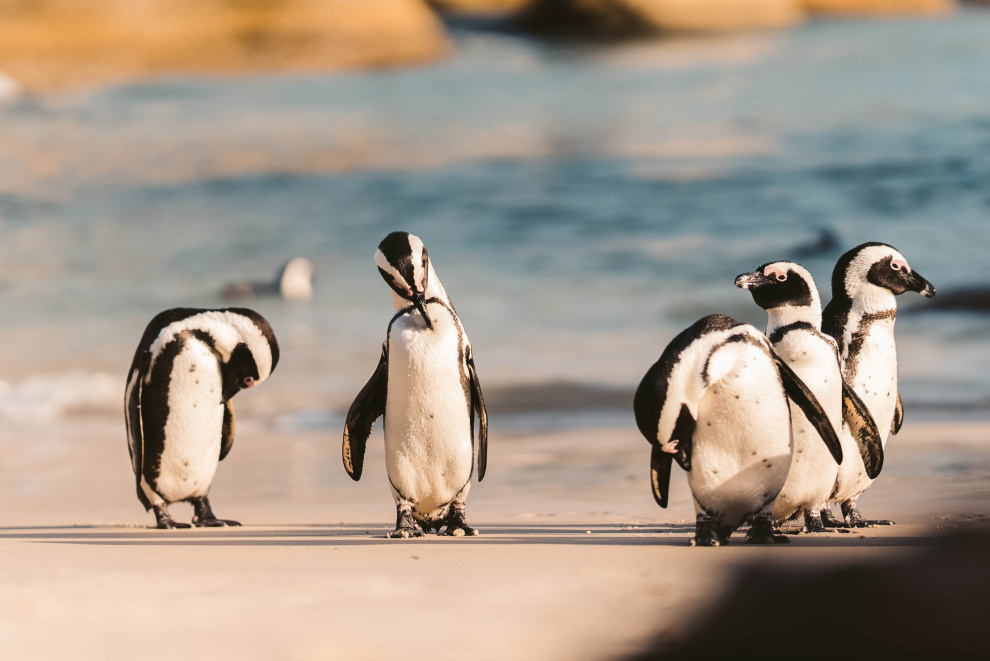 This adorable little species is very closely related to the African penguin and the Humboldt penguin.
Characteristics:
Being only 49 centimetres in height, the Galapagos penguins are the second smallest penguins in the world, being slightly bigger than the fairy penguins found in Australia and New Zealand.
They may be tiny but are extremely smart and have adapted remarkably to their surroundings.
The Galapagos has a tropical climate so these penguins pant to cool down and lean forward in order to shade and protect their feet from the sun.
Where can you find them?
Though their population is small, they are spotted at several locations throughout the islands, including Pinnacle Rock, Bartolome Island and Isabela and Fernandina Islands.
Marine Iguanas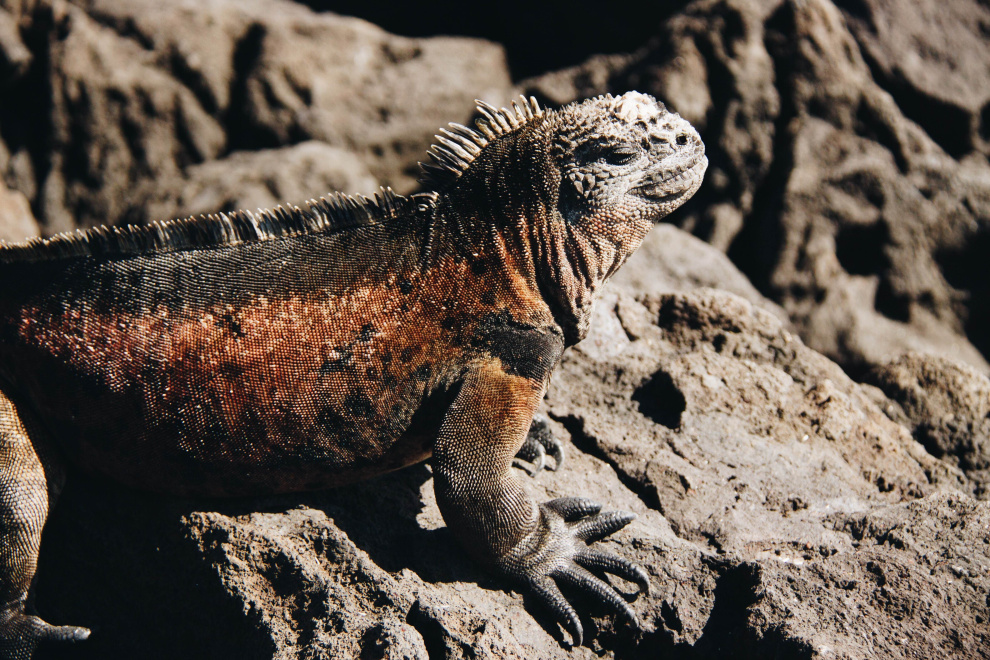 Chances are, you've never heard of iguanas who can swim, well now you have! These super cool reptiles love a good swim while feeding on algae and seaweed. Since they can't breathe underwater, they hold their breath for long periods.
Characteristics:
Unlike humans, male iguanas don't really need bright flowers in an attempt to woo their partner; they just turn into different shades of blue, red, and pink!
Now that's called going the extra mile. They do this during mating season to attract partners and return to black once the mating season is over – this is to absorb as much sunlight as possible before diving into the ocean again where their body heat can drop down.
Where can you find them?
They are everywhere on the Galapagos Islands! You can find them in the coastal regions of Isabela, Fernandina, Espanola, Santacruz, and the surrounding islets.
Darwin's Finches
A classic example of evolution in action, Darwin's finches are small land birds with remarkable diversity in their function and beak form. These different types of beaks allow them to cover different types of niches.
Characteristics:
These birds have been the subject of many studies and hence are an instrumental part of the knowledge of evolution we have today.
They weigh between 10-38 grams and have a small body type and even though they display similarities in body colour, height, and weight, their beaks are the most striking feature.
Where can you spot them?
Although they are notoriously difficult to recognize, they can be categorised based on their habitat, beak, and diet. They are found on Fernandina, Floreana, Espanola, Santa Fe and Pinta Islands.
Blue-footed Boobies
Blue-footed boobies are seabirds that are named after their most distinctive characteristic – their bright blue feet!
Characteristics:
A cool thing to know about them is that they aren't born with blue feet. Once they are old enough, their feet begin to turn blue.
Mating rituals include male birds showing off their feet and wings while letting out a loud whistle.
It can be quite comical but at the same time, is a noteworthy experience if you're lucky enough to witness their courtship dance where they strut and dance in unison.
Where can you spot them?
Even though they're not their most graceful selves on land, they are worth spotting. North Seymour is a famous breeding ground for boobies and other seabirds as well. You can also spot them on various other islands like Espanola, Santa Cruz, Pinzon, Isabela, and Floreana.
Sally Lightfoot Crabs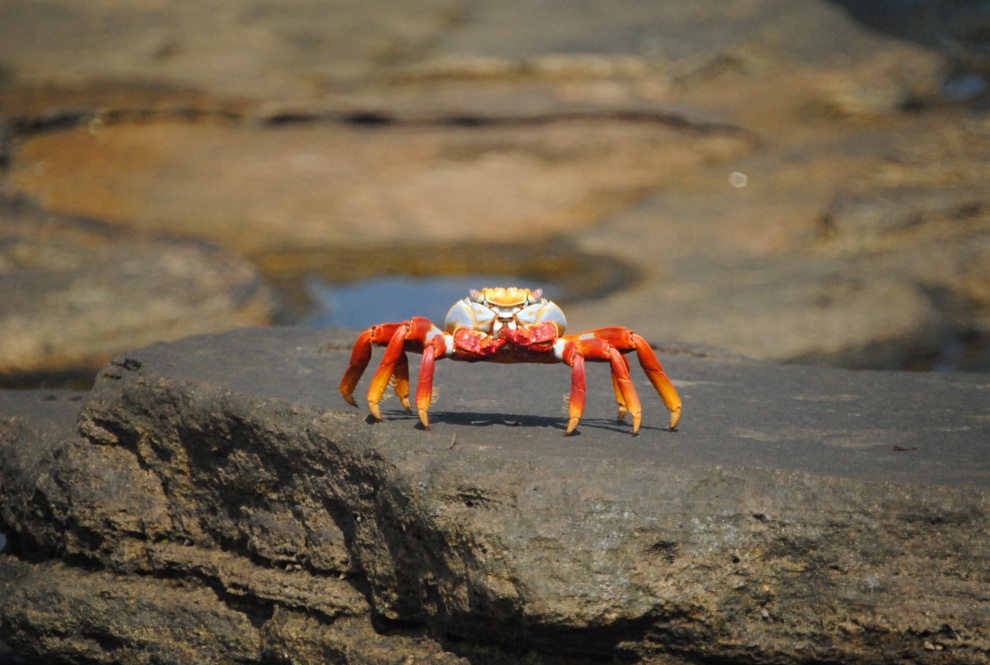 Though the true origin of their name is debated, they certainly live up to it! They can outrun (or leap, jump and almost fly) any predator. They can cling to rocks and cliffs and will put your adventurous, climber self to shame.
Characteristics: As they grow older, their colour changes from black or brown with spotting to a more vibrant range. It doesn't serve the function of camouflaging, but thankfully they get faster as they mature!
Where can you spot them?
They can be found in large groups on beaches and in shallow waters in the Galapagos.
Galapagos Hawk
The Galapagos hawk has evolved to fill the niche of a top predator on the islands and feed on a variety of prey, including reptiles, birds, and small mammals to balance the ecosystem on the islands.
Characteristics: Their mating system is famously unique. Males are majorly monogamous while females tend to mate with 6-7 different males during mating season.
Where can you find them?
They are classified as extinct on several islands but can be seen on the main islands such as Fernandina and Isabela.
Galapagos Seals
Galapagos Seals are the most inquisitive endemic mammals of the islands. They are the smallest species of fur seal in the world, and are more closely related to sea lions (they are often mixed up). But both have distinctive features that help with the classification upon closer inspection - these seals are smaller than sea lions but have larger front flippers!
Characteristics:
Galapagos fur seals have large eyes so that they can hunt at night and stay in ice caves during the day.
A cool fact to know about them is that Galapagos seals live in large colonies which are later divided up by mother seals during the breeding season as they claim a section of the colony and breed their pups.
Mothers recognize their pups with smell and sound and tend to be quite hostile and violent in rejecting strange pups.
Where can you spot them?
They can typically be seen on rocky shores and often prefer shaded areas but can be spotted at James Bay on Santiago and Darwin Bay on Genovesa.
Special Mention: Conservation Efforts
Recent research has shown that climate change is having a significant impact on the Galapagos Islands and its unique wildlife.
Rising temperatures and changing ocean conditions are affecting the distribution and abundance of many species, including the Galapagos Giant Tortoise, sea lions, and the Galapagos penguin.
Conservation efforts are underway to protect these iconic animals and their habitats, but it is important that we all do our part to ensure their survival for future generations to enjoy.
One of the easiest ways to help conservation in the Galapagos Islands is simply to travel there. Your national park entry fees go a long way towards conservation of wildlife.
Also keep in mind to choose the right travel and cruise operator for your trip who will adhere to the environmental standards set.
From the adrenaline rush of snorkelling nose-to-nose with sea lions to the wonder of watching up-close as blue-footed boobies perform mating dances on the sand; Galapagos is home to experiences that will leave you amazed. Join us on a cruise to the Galapagos for an experience of a lifetime (literally!). DM us to know more or check out our package here.
Ready to embark on your next adventure? Fill out the form below and let our experts curate your dream getaway!
All Fields are mandatory*